AFerry.co.uk's Affiliate Programme
Join the world's largest online ferry distribution network as an affiliate and start earning money from your website or travel agency quickly and easily.
What do we offer?
Whether you have a website or an offline business such as a walk in travel agency, we can provide a solution for you. As well as the vast choice of routes and ferry companies, AFerry can offer you security. We act much the same as a travel agent, making your bookings with the ferry companies. All payments are taken on a secure website using a full credit card validation mechanism.
AFerry is able to provide a unique online ferry booking solution with real time access to over 180 European ferry operators and over 2000 ferry routes with instant email confirmation. As an affiliate you can embed our booking engine form onto your site and start earning money. Our booking engine form allows you to find ferries quickly, as well as displaying alternative options that are often cheaper for your customers. Offer more on your site to your customers today with our ferry booking engine.
Affiliate Customer Support:
All bookings through our engine are confirmed by email. The email confirmation customers receive provides a link to "My Account" where they can amend or cancel their bookings online or send a message to our customer support team. We have a large team of multi-lingual support staff who answer email enquiries, so your customers will have access to help if they need it.
How does the Affiliate Booking Engine work?
We provide you with html code in an iframe, which can be placed anywhere you require on your website. Your engine will have a unique referrer code specifically for your website, to accurately record all bookings made through that booking engine, which will be set up in your preferred language and currency.
How do I become an AFerry affiliate and earn money through my site?
If you are an online travel agent or specialist travel site that is interested in earning commission through selling European ferry tickets then please email us at affiliates@aferry.com for further information, and start earning money through your site today!
A Few Sites Using our Booking Engine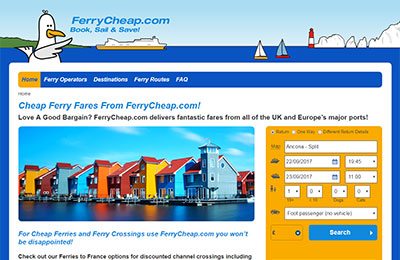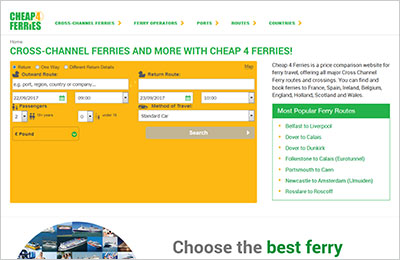 Cost
There are absolutely no costs involved in the affiliate program and AFerry will set-up a unique booking engine and include a contract of terms via email. AFerry will also provide a login and a URL where you can view daily booking statistics. A statement is sent monthly showing the bookings made via your site. All commissions earned are paid directly into your account on a monthly basis.
What is the commission rate?
AFerry provides highly competitive commission rates along with the most advanced ferry booking technology available as an affiliate program on the internet. As standard we provide all affiliates with a booking engine on a 50/50 commission split basis. For further details on our competitive commission rates and affiliate scheme please email us and become a partner of the internet's biggest ferry ticket distribution network.
Who do I contact to become an affiliate?
Just send an email to affiliates@aferry.com to get the process started. We have a dedicated member of staff who'll be more than happy to get you started.