Amsterdam to Newcastle Ferry
Amsterdam to Newcastle Ferry

See sailing schedules and the latest prices

Safe and secure booking

Feel confident booking with "The World's Leading Ferry Website"

Amsterdam to Newcastle Ferry

Find information with AFerry.co.uk

Millions of satisfied customers

We're the biggest ferry website in the world and we have a dedicated UK customer service team, just in case
Amsterdam to Newcastle Ferry with DFDS Seaways - Prices from £281
IJmuiden to Newcastle Special Offers
Save up to £70 on Newcastle-Amsterdam Ferry Crossings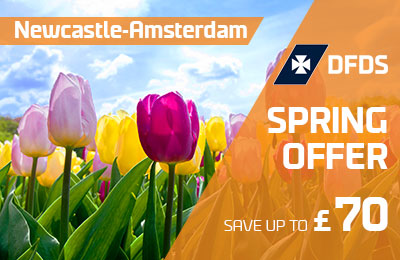 Book by 21/06/2019. Travel until 31/10/2019.
Sail away and explore Amsterdam in the springtime, with £35 off one way and £70 off return crossings from Newcastle to Amsterdam. Note: offer of £35 off Each Way applies to all cabin types except A5 and Commodore cabins.
Save 30% on an Early Bird Mini Cruise to Amsterdam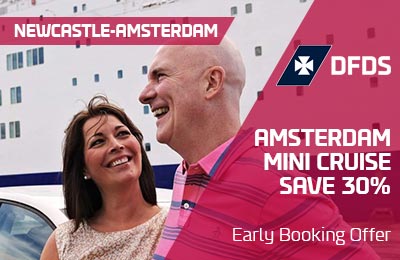 Book now. Travel all year. Prices from £74pp based on 2 sharing, return.
Book a mini cruise from Newcastle to Amsterdam 60+ days before departure & save a fantastic 30% with our early bird offer. With your travel, accommodation and transfers included, it's the perfect way to see the Dutch capital. Includes 2 nights onboard in an en suite cabin, time to explore Amsterdam and coach transfers.
The Amsterdam to Newcastle route connects Amsterdam (Ijmuiden) port in Holland to Newcastle upon Tyne in North East England to. The port of Ijmuiden is located 30 miles from Amsterdam. The ferry route is operated by DFDS Seaways. There are up to 7 crossings per week and the crossing time is approximately 16 hours and 30 minutes. This route accepts foot passengers and all vehicle types.
---
Getting the best price for your IJmuiden to Newcastle ferry
With AFerry we always give you our best prices for ferries from IJmuiden to Newcastle. No matter which page you book from we always include all our special offers. And there is no need to look for a discount code. If we have an offer available, your ferry price will include the reduction or offer. There's no need to look at other websites.
If you're not sure if the IJmuiden to Newcastle route is right for you or you can't decide between ferry companies, if there is more than one, you might also find it useful to read any reviews we have available. We ask all our customers to send us reviews for IJmuiden to Newcastle ferries. Remember though, that the earlier you book, the cheaper prices normally are. So don't spend too long deciding! IJmuiden to Newcastle is a popular route, so we advise you to book as soon as possible.
Reviews
Journey IJmuiden to Newcastle

Good service

Review by Anon

A relaxing journey

Review by GORDON STEVEN

The food on-board is very expensive. I would recommend eating before you board the ferry or have some food with you. I understand pricing for the on- board restaurant but the price for buffet is too high! There is no small snack place available where you could buy something for kids. We traveled with a young family with two kids. Although kids pay- half price for buffet, it would cost them EUR90 to eat in the buffet. Way too much! Other than that the ferry experience was really nice. Staff was very helpful and welcoming.

Review by Malgorzata

After a long, hectic drive from Central Italy to Ijmuiden, in changeable weather, the comfortable cabin, excellent buffet dinner, and efficient staff was so much needed.

Review by Anon

Great way to travel, if time is on your side

We really enjoyed our trip. We have been on seagoing cruises and this was just like one on a smaller scale. Food and service were great. Entertainment was great. The only downside was the queuing on both sides. Consumed a lot of time. But after that, it was all smooth sailing.

Review by Anon