Barcelona to Morocco Ferry
Coronavirus ferry travel advice
Barcelona to Morocco ferry information:
There are currently 2 ferry routes connecting Barcelona and Morocco, with services from Barcelona to Nador and Tanger Ville. On average, there are a combined number of 4 crossings per week between Barcelona and Morocco, which are operated by Grandi Navi Veloci and Grimaldi Lines. The shortest crossing is to Nador and takes around 1 hour, while the longest crossing is to Tanger Med and takes approximately 8 hours.
The above information is a basic summary on the services between Barcelona and Morocco. We recommend using our Ferry Search to find live ferry information and the latest prices.
About Barcelona
Barcelona is the capital of Spain's Catalonia region, and is one of the Spain's, or even Europe's, most beautiful and vibrant cities. Barcelona is a city of contrasts, which is evident in its architecture, a marriage of Gothic spikes and modern curves, including the famous - Sagrada Familia.
Barcelona is divided into two parts. The old city, which is the heart of the city, includes shopping, cafes and museums. Then there's Port Vell, which features bars, restaurants, shops, an IMAX theatre and the largest aquarium in Europe, not too far from the main Barcelona ferry port.
About Morocco
Morocco is situated on North Africa's most westerly point, bordering Algeria and Mauritania. Morocco has a varied landscape, from sandy beaches to fertile plains to the impressive Atlas mountain range which runs through the centre of the country.
The markets of Morocco are worth a visit. It is expected that you haggle a wee bit for goods (the original asking price may be anything up to 50 times the actual expected price of any item). This is obviously fantastic news for any wannabe Apprentice candidates who are planning their holidays.
Also try a Hammam. Hammams are social steam baths that can be found throughout the country. They are considered by many to be an essential part of a trip to Morocco. Most Hammams are single sex.
Morocco Travel Guide
Morocco has experienced an influx of tourists in recent years; the sandy beaches and vibrant towns make Morocco a popular destination with visitors from all over the world, who flock to Morocco to experience the warm climate and rich culture that the country offers.
Say the word Morocco and you will often be greeted with a series of blank looks and puzzled expressions. Mention, however, the city of Casablanca, and you will be rewarded with nostalgic smiles as minds are cast back to one of the nation's favourite film. The mention of Marrakesh will remind people of exotic markets tinged with the sights and smells of the Arab world. The port of Tangier will remind people of the long queue of famous people who flocked to get a bit of the charm of this African nation, from Churchill to Jimi Hendrix.
As you can see, Morocco is the place to go!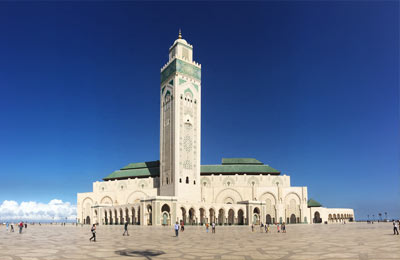 Rabat Mosque is just one of the beautifully decorated buildings that you can find in Morocco.