Ferry to Belfast
Coronavirus ferry travel advice
Book ferries to Belfast from England, Scotland and the Isle of Man with AFerry.co.uk. All the latest offers included
Ferries to Belfast in Northern Ireland, sail from Liverpool Birkenhead in England, Cairnryan in Scotland and Douglas on the Isle of Man. The routes are operated by two companies: Stena Line and the Isle of Man Steam Packet Company.
Sailing Durations:
Sailing durations with Stena Line on the Cairnryan-Belfast service are from 2 hours 15 minutes, with up to 6 daily crossings. On the Liverpool-Belfast service from 8 hours with up to 2 daily crossings.
Sailing durations with the Isle of Man Steam Packet Company on the Douglas-Belfast service are from 4 hours and 45 minutes. However the service times are approximate and subject to tidal and weather conditions, so we advise you check the sailing times by doing a live quote.
We compare so you get the best price:
When you do a search for a ferry to Belfast, we will also do a ferry comparison with similar routes, for example we will also show you Cairnryan-Larne results when you search for a Belfast ferry. And of course we show you a huge variety of times and prices so you can get our best deal.
Onboard your Belfast Ferry with Stena Line
The Stena ferries sailing between the UK and Northern Ireland on the Liverpool to Belfast route are the Stena Lagan and the Stena Mersey. These bright and spacious ships offer great shopping onboard, comfortable areas to relax in and a great choice in food and drink.
The Stena superferries sailing between Scotland and Northern Ireland (Cairnryan-Belfast) are Stena Superfast VII and Stena Superfast VIII. Onboard these superferries you can enjoy the Nordic Spa, the POD Lounge, The Living Room and Taste restaurant. Plus free Wi-Fi, free movies and the exclusive Stena Plus Lounge. These ferries offer comfortable areas to relax in, great choice in food, shopping and entertainment and of course a warm Irish welcome.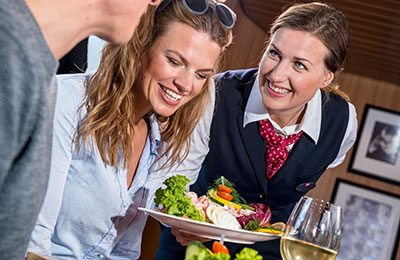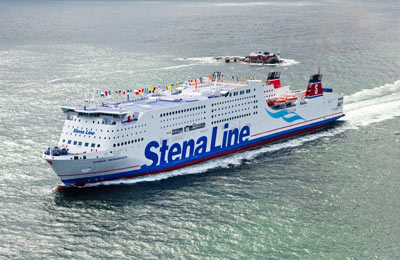 You will find all Stena Line ferries offer the highest standards of comfort and all the onboard facilities you could possibly dream of including play areas, shops, wi-fi access, bars, cafes and restaurants. You can choose from several different cabin types to suit your needs or choose a luxury one if you want to treat yourself.
Onboard Stena Line Accommodation
4 berth comfort class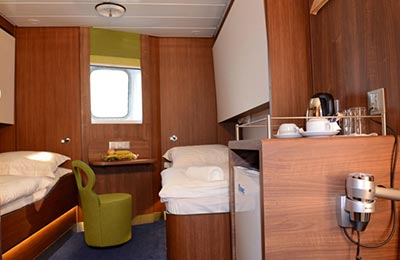 Treat yourself and book a Comfort Class cabin, offering a little bit of extra luxury for the discerning traveller.
Facilities include:
4 berths with DUX luxury mattresses
En-suite facilities including toilet, sink and shower
Towels, shower gel and hair dryer
Desk area
Fridge with complimentary still and sparkling water
Complimentary fruit bowl
Tea and coffee making facilities
Flatscreen TV with multiple free view channels
Window
Free Wi-Fi
Complimentary shortbread
4 berth inside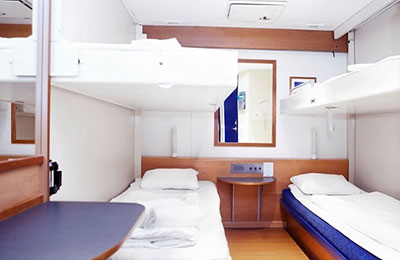 This Standard Class cabin without a window (inside) is suitable for 1 to 4 people. Inside you'll find:
4 single beds. Wall mounted or bunk beds.
Ensuite bathroom with a shower & toilet
Exact cabin facilities may vary depending on the ship or route you sail on. Some cabins may also feature:
Television. Gothenburg, Dublin, Rosslare and Belfast routes.
Luxury DUX mattresses. Gothenburg and Belfast routes.
Free Wifi. Belfast routes.
Desk area. Rosslare and Dublin routes.
Onboard your Belfast Ferry with the Isle of Man Steam Packet
You will find all Isle of Man Steam Packet ferries offer the highest standards of comfort and great onboard facilities. When you travel with Isle of Man Steam Packet, you will find the Ocean Avenue shop selling a wide variety of products including newspapers and magazines. If you fancy something a bite to eat or a quick drink you will also find a choice of bars and restaurants on board. Steam Packet chefs and staff use Fairtrade and local produce from the Isle of Man meaning your food is not only delicious but kind on the environment too.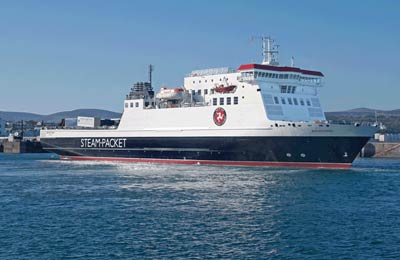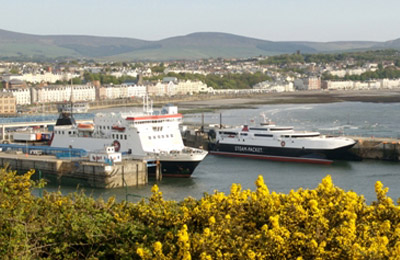 Onboard Isle of Man Steam Packet Accommodation
Niarbyl Lounge Seat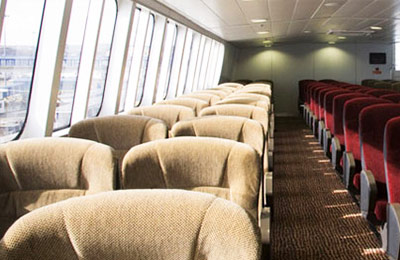 These seats are located in the "Nairbyl" lounge. This lounge is the perfect place for a quiet and comfortable journey. The seats are very comfortable.
First Class Seat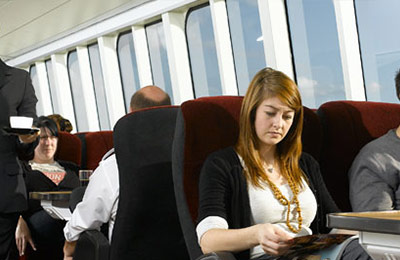 The Premium Lounge offers additional facilities and services to enhance your travel experience:
Exclusive lounge with comfortable seating
Complimentary non-alcoholic beverages served at your seat
Complimentary newspapers and selection of magazines
Complimentary WiFi
Access to laptop and mobile phone charging points.
Pillows and blankets available on request
On request the onboard service team are also happy to assist with any purchases you may wish to make from onboard Café or Bar outlets
Please note: On fast ferry services the Premium Lounge may only be used by passengers aged 8 or over.
4 Berth Cabin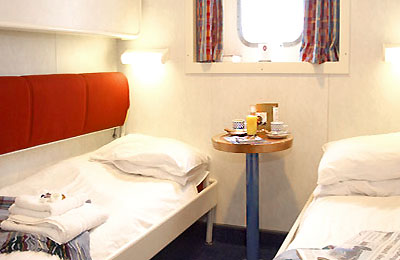 This cabin accommodates up to four people and is ideal if you wish to get a few hours sleep or just want some privacy.
Facilities:
Beds with duvet and bed linen provided
Ensuite WC and shower with towels provided
Television
Tea and coffee making facilities
Complimentary WiFi
In-cabin service for meals available
Port Addresses
Isle of Man Steam Packet
Isle of Man Steam Packet Company Terminal, Albert Quay, Belfast., BT3 9SS, Northern Ireland
Stena Line
Victoria Terminal 2, West Bank Road, Belfast, BT3 9JL, Northern Ireland
Reviews
26 Feb 2020

Great experience!

Very good experience. All was very easy from booking to checking in.

Review by Anon

25 Feb 2020

Stena line ferry

Fantastic trip, great staff

Review by KATHRYN THOMPSON

16 Feb 2020

Satisfaction traveling

Very good crossing considering weather conditions.

Review by ALAN RYAN

21 Jan 2020

Happy traveling

Very relaxing crossing comfy chair good coffee what more could you want

Review by STEVEN HENDY

Stenaline ferry from Stranraer was great we checked in quite quickly then a short wait to embark which went very smoothly. The ferry itself was spotless I couldn't fault it the facilities were fantastic. The staff were polite and courteous and food and drink selection was good and reasonably priced I would use this route again

Review by LAURA GORMLEY