Birkenhead to Northern Ireland Ferry
Coronavirus ferry travel advice
Birkenhead to Northern Ireland ferry information:
Birkenhead is connected to Northern Ireland via the port of Belfast. On average, there are 2 crossings each day between Birkenhead and Northern Ireland, which are operated by Stena Line. Crossings from Birkenhead to Belfast usually take around 8 hours.
The above information is a basic summary on the services between Birkenhead and Northern Ireland. We recommend using our Ferry Search to find live ferry information and the latest prices.
About Liverpool Birkenhead
Liverpool Birkenhead is a town in England situated on the Wirral Peninsula along the bank of the River Mersey and opposite the city of Liverpool. Best known as a seaport town and for its shipbuilding in the 19th century. Well known landmarks include Birkenhead Park, its entrance is modelled on the Temple of Illysus in Athens and you can find a Roman boathouse, sandstone lodges and two lakes with an ornate bridge. Other places worth a visit are the Bidston Windmill which sits on a ridge behind the town, and Birkenhead Priory the oldest standing building on the Merseyside founded in 1150. On Woodside Ferry Terminal you can also visit a real German U-boat with interactive displays, telling the story of World War II German submarines. Visitors can view its amazing interior and discover its surprisingly well preserved artefacts including a rare Enigma machine.
About Northern Ireland
Northern Ireland has a lot to offer visitors. It is renowned for its friendly people and natural beauty.
Any holiday to Northern Ireland will leave you with a lifetime of memories. Northern Ireland is also steeped in history from Norman castles to remnants of the early Christian era including monasteries, abbeys, and, of course, Celtic crosses.
Northern Ireland is also famous for its lively charming pubs that are the perfect place get a taste of Northern Ireland in the 21st century.
Sitting down to a pint of Guinness in bars like the John Hewitt or Crown Liquor Saloon in Belfast is the perfect opportunity to strike up a conversation with some of the friendliest people you'll ever meet.
Northern Ireland Travel Guide
Explore the unspoilt green landscape or meet some of the friendliest locals in the world in one of Belfast's many vibrant pubs. Northern Ireland will you leave you with memories sure to last a lifetime.
If you are a nature lover, you will love Northern Ireland. In fact, even if you aren't, Northern Ireland will make you fall in love with nature. Pure unspoilt forests, lakes and rivers will take your breath away and help you to escape the pressures and strains of modern day life. From Kebble Nature Reserve on Rathlin Island to Castle Archdale in County Fermanagh, you are guaranteed to be seduced by the history and majesty of Northern Ireland's countryside.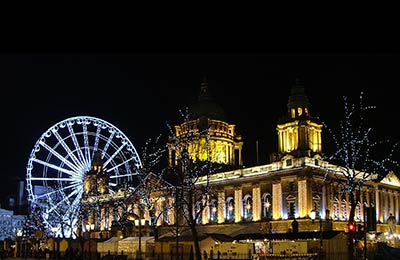 St George's Market in Belfast