On board BornholmerFærgen (Bornholmstrafikken) ferries
BornholmerFærgen's fleet consists of three modern, comfortable, well-equipped ferries. The H/F Villum Clausen, the M/F Povl Anker and the M/S Hammerodde.
On the all BornholmerFærgen ferries you will find a shop, a bistro serving breakfast, cold drinks, snacks and sandwiches, a cafe serving breakfast, drinks and a small selection of cold dishes as well as a children's area showing cartoons for the 'little passengers'. On the M/F Povl Anker and M/S Hammerodde, which are used on BornholmerFærgen's longer routes, you are also able to book cabins of the highest quality meaning you arrive at your destination feeling fresh and ready to go!
---
Pet Booking Information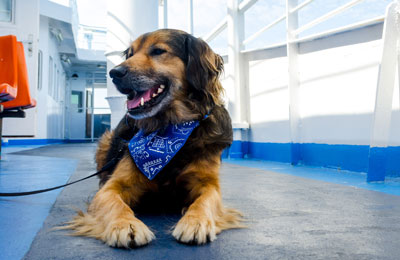 You can book your cat or dog on board a BornholmerFærgen ferry with AFerry.
Just choose your route and then select the number of cats or dogs you are sailing with.
Note that to take your pet to and from the UK to mainland Europe and Ireland you will need a pet passport. To find out more about pet passports and travelling with your pet see our pet travel guide.