Brittany Ferries économie
Coronavirus ferry travel advice
Book Ferries to France, England & Spain with Brittany Ferries économie
Brittany Ferries économie is a brand new no-frills service by Brittany Ferries. The ship, named Etretat, will sail from Portsmouth to both Le Havre and Santander. This service is ideal for those looking to find the very cheapest crossing. On board the Etretat you will find a self-service restaurant, a bar, a movie lounge and a seating area. For night crossings, en-suite cabins will be available.
Brittany Ferries économie Routes
Pet Booking Information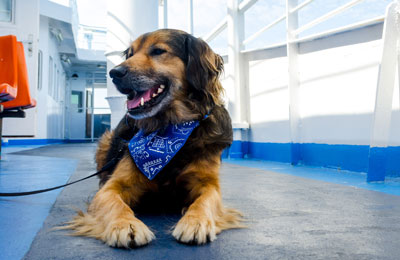 You can book your dog or cat online Brittany Ferries économie ferries to and from France. Just choose your route and then select the number of cats or dogs you are sailing with.
Pets must stay in your vehicle when on board with visits possible. You must provide a muzzle for you dog which they must wear when outside your vehicle. Please ensure plenty of ventilation in your vehicle for your pet but lock your doors. Absorbent bedding and familiar toys can help. The garages are checked regularly and the temperature is carefully controlled.
On the Etretat there are 12 pet-friendly cabins. For information on booking with pets on Brittany Ferries' cruise ships, please visit the Brittany Ferries page.
Note that to take your pet to and from the UK to mainland Europe and Ireland you will need a pet passport. To find out more about pet passports and travelling with your pet see our our pet travel guide.