Ferry travel and camping make for cheap holidays abroad
Camping is cool again and it's cheaper than staying in costly hotels - which for families on a budget is great news.
People used to associate camping with wet weekends in the UK, but increasingly holidaymakers are seeing it as a budget-friendly option when travelling abroad as well.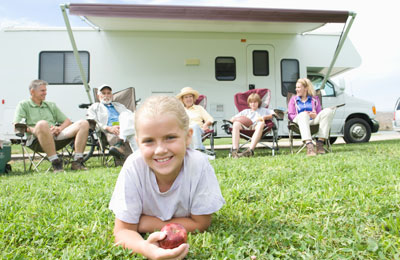 With AFerry, it's also easy. Ferry crossings to European destinations such as France, Spain and Belgium make camping on the continent a great alternative to the traditional package holiday.
Flexibility
One of the many benefits of camping abroad is that it gives you and your family more freedom to explore at your leisure.
By booking into a hotel, you're confining yourself to one particular town or city for the duration of your stay. But if you camp, you can pack up the car and simply pitch up your tent somewhere else for an instant change of scenery.
Perhaps you fancy taking a Dover to Calais ferry and camping in the Nord Pas de Calais region of France, before moving on to discover Paris and then heading south to the beautiful Cote d'Azur.
Or maybe a camping holiday in Spain is more your idea of fun. Sail to Santander or Bilbao and enjoy the beautiful landscapes in the north of the country, then travel south to Madrid and on to the popular Spanish Costas.
If you camp, you can have complete control over your holiday, choosing when and where you want to go and how long you want to stay. And compared to hotel rates, you'll pay minimal prices to pitch up your tent.
If you camp, you can pack up the car and simply pitch up your tent somewhere else for an instant change of scenery
Holiday on a budget
Tough economic times have forced many families to rein in their spending. But most people are reluctant to give up their annual holidays, so are coming up with new ways to enjoy themselves that don't leave them struggling financially.
Camping is therefore the perfect choice, particularly when combined with cheap and convenient ferry crossings to Europe.
Air fares can be expensive, especially when you factor in taxes and excess baggage charges. This means taking your camping kit abroad is costly if you fly. By taking a ferry, you can throw all your equipment in the car at no extra cost. A fact that the biggest ferry companies like Irish Ferries and Brittany Ferries often like to highlight in their advertising
Even without a tent, a portable stove and other outdoor essentials, camping can still be a cost effective holiday option. Some larger campsites have static tents that are suitable for the whole family and even have electric lights and kitchens.
Camping is therefore the perfect choice, particularly when combined with cheap and convenient ferry crossings to Europe.
Glamping
Of course spending a night under canvas isn't for everyone and some holidaymakers prefer a little luxury on their trips abroad.
If you're one of them, the growing trend for 'glamping' could be the answer. Why not rent a deluxe chalet or wooden lodge on a well-equipped holiday park? It's the perfect mix between camping and glamming it up in a stylish hotel.
Some parks, such as the popular Eurocamp sites, provide lavish bungalows and comfortable apartments complete with all the usual mod cons so you don't have to compromise on quality.
While it's not strictly camping, it can be much more affordable than hotels and holiday resorts, and can be a great way to connect with nature without getting too close to it.
Another option is caravanning. Stay in a static caravan at a large campsite, or if you have your own mobile home, then take it with you.
Most ferry operators allow you to take a caravan onto the vessel with your car at a small extra cost. If you're booking crossings with AFerry, simply specify that you have a mobile home on your booking form and provide details of its size.
Things to remember
Whether you're taking a caravan abroad, or just packing your camping kit into your car, you'll need to make sure you have appropriate insurance for your vehicle.
You'll also need to find out more about driving abroad and the rules you'll need to follow to travel safely from campsite to campsite, as well as any paperwork you need to carry with you.
Making campsite bookings before you travel may be a good idea, but if you prefer to have complete flexibility and the freedom to explore at your own pace, then a comprehensive map and local travel guides will be extremely useful.
Getting there
AFerry.co.uk offer crossings to several countries from the UK, including France, Spain, Ireland, Belgium and Holland. From there, you can travel onwards with ferries to Italy, Corsica, Sardinia and even Morocco.
Booking cheap ferries with us is simple and we offer some great deals, helping you bring down your holiday costs as much as possible.
We offer crossings with all the major ferry operators, from P&O Ferries and Irish Ferries to Stena Line and Condor Ferries. You can also book cheap Eurotunnel tickets through our website if you prefer to take the train to the continent.
Don't forget that you can book all major camp sites with AHoliday.