On board Comarit ferries
Comarit's fleet consists of eight modern fully equipped ships. On board, in addition to friendly staff willing to help you in any way possible, you will also find a complete range of facilities including bars, restaurants, relaxing lounges and entertainment rooms. Sometimes in the warmer months you may even also have access to a swimming pool on deck. All Comarit cabins are also of the highest standards. Any ferry crossing you take on a Comarit ferry is bound to be a wonderful experience.
---
Whether you book the Comarit Nador Sète ferry route, the Comarit Tanger Med Sète ferry service or a ferry on the Comarat Genoa Tanger Med line, any journey you take on any Comarit ferry is certain to be relaxing and pass without a hitch. Use the booking form to book your Comarit ferry with AFerry.
Pet Booking Information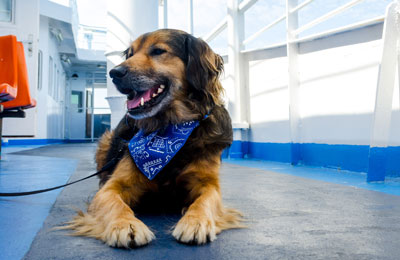 You can book your cat or dog on board a Comarit ferry with AFerry. Just select the number of passengers using the booking form above then on the next screen choose your pet details.
Note that to take your pet to and from the UK to mainland Europe and Ireland you will need a pet passport. To find out more about pet passports and travelling with your pet see our pet travel guide.