On board DFDS ferries from Dover to Calais
This operation is a joint venture between LD Lines and DFDS Seaways. Two of the best loved and well known cross channel ferry companies. These two companies are well known for their high standards and the comfort of their ferry crossings. No doubt, they will continue to offer ferries services of the highest possible standards.
---
Whichever ferry you take from Dover to Calais or even from Dover to Dunkirk with DFDS Seaways, you are bound to have a relaxing and enjoyable journey and you can rest assured that you got the very best prices with AFerry.
Pet Booking Information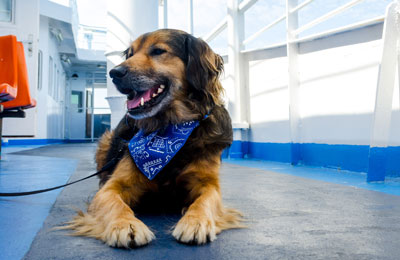 You can book your cat or dog on board a DFDS Seaways ferry with AFerry. You can book pets on the Dover/Calais & Dover/Dunkirk and Newhaven/Dieppe & Portsmouth/Le Havre routes
Just choose your route and then select the number of cats or dogs you are sailing with.
Note that to take your pet to and from the UK to mainland Europe and Ireland you will need a pet passport. To find out more about pet passports and travelling with your pet see our pet travel guide. It is your responsibility to ensure you have had the procedures carried out in the correct order and the pet's documentation is correctly completed.
When you travel with a pet, you should arrive at least 90 minutes before departure.
*Terms and conditions
Standard terms and conditions apply. New bookings only. Quoted fares are from prices only and subject to change. Prices vary according to the time and date of departure and are subject to availability. Card charges apply to some card types.
Car fares refer to standard car dimensions (less than 2.40 metres high and less than 5 metres long). Supplements may apply for other vehicle types and dimensions and for additional passengers to those advertised.
Special Offers - Terms and Conditions
25% off Motorcycles & sidecars Dover to France
Discount applicable to Motorcycle vehicle types only, other vehicle types are bookable but will not return 25% discount. All other Standard EC Economy Terms and conditions apply.
20% Off Dover-France sailings from Dusk to Dawn (10pm-6am)
Save 20% on selected late night and early morning crossings departing from Dover. Subject to availability. By booking this special summer offer for discounted travel at night and early mornings on selected dates you can only travel on the specified crossing(s) booked, you cannot make amendments AND you cannot get a refund. Excludes Sailings departing Dover on the following dates: July 21/22/28/29: August 04/05/11/12:
Short Breaks to France from £35
Terms: Subject to terms and conditions. Excludes these dates: February 15-17, 22-24, April 5-7, 12-14, 19-21, 26-28, May 24-26, 31, June 1-2, 14-17, July 11-31, August 1-31, September 1-4, October 18-20. Offer is available on return bookings only, with a car and up to 9 people - or with a motorcycle, with or without side car and up to 2 people. Outward journey must start in Dover. Offers may be withdrawn at any time.