---
On board DFDS Seaways ferries
You will find all DFDS Seaways ferries offer the highest standards of comfort and all the on board facilities you could possibly dream of. You can choose from several different cabin types to suit your needs or choose a luxury one if you want to treat yourself. On board you will also find up to seven different restaurants offering top class cuisine as well as a number of bars and lounges. If you are travelling with children, you will find different forms of entertainment, treasure hunts and other activities to keep the little ones busy and entertained.
Pet Booking Information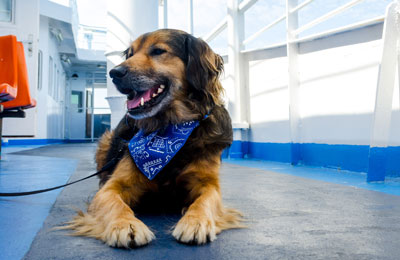 You can book your cat or dog on board a DFDS Seaways ferry with AFerry. You can book pets on the Dover/Calais & Dover/Dunkirk and Newhaven/Dieppe routes.
Just choose your route and then select the number of cats or dogs you are sailing with.
Note that to take your pet to and from the UK to mainland Europe and Ireland you will need a pet passport. To find out more about pet passports and travelling with your pet see our pet travel guide. It is your responsibility to ensure you have had the procedures carried out in the correct order and the pet's documentation is correctly completed.
When you travel with a pet, you should arrive at least 90 minutes before departure.