Douglas to Northern Ireland Ferry
Coronavirus ferry travel advice
Douglas to Northern Ireland ferry information:
There are currently 2 ferry routes connecting Douglas and Northern Ireland, with services from Douglas to Belfast and Larne. On average, there are a combined number of 2 crossings per week between Douglas and Northern Ireland, which are operated by Isle of Man Steam Packet. Crossings from Douglas to Northern Ireland take approximately 2 hours 45 minutes.
The above information is a basic summary on the services between Douglas and Northern Ireland. We recommend using our Ferry Search to find live ferry information and the latest prices.
About Douglas
The kingdom of Man is a mystical island located at the geographical centre of the British Isles in the middle of the Irish Sea. The island is well connected to both Britain and Ireland, with daily departures from Douglas Ferry Port to Liverpool, Liverpool Birkenhead, Heysham, Dublin and Belfast. All Douglas ferries can be booked through AFerry
The island of Man measures just 33 miles by 13 but within these shores there is a wealth of discoveries to be made. It is a very different island, with its own legal system and the world's oldest continuous parliament - Tynwald.
The main port of Douglas has experienced changes with the construction of a second link span. This elevated passenger walkway was built on reclaimed land during the nineties to provide up-to-date facilities for the new design of conventional and fast roll on - roll off ferries now operating to the island.
About Northern Ireland
Northern Ireland has a lot to offer visitors. It is renowned for its friendly people and natural beauty.
Any holiday to Northern Ireland will leave you with a lifetime of memories. Northern Ireland is also steeped in history from Norman castles to remnants of the early Christian era including monasteries, abbeys, and, of course, Celtic crosses.
Northern Ireland is also famous for its lively charming pubs that are the perfect place get a taste of Northern Ireland in the 21st century.
Sitting down to a pint of Guinness in bars like the John Hewitt or Crown Liquor Saloon in Belfast is the perfect opportunity to strike up a conversation with some of the friendliest people you'll ever meet.
Northern Ireland Travel Guide
Explore the unspoilt green landscape or meet some of the friendliest locals in the world in one of Belfast's many vibrant pubs. Northern Ireland will you leave you with memories sure to last a lifetime.
If you are a nature lover, you will love Northern Ireland. In fact, even if you aren't, Northern Ireland will make you fall in love with nature. Pure unspoilt forests, lakes and rivers will take your breath away and help you to escape the pressures and strains of modern day life. From Kebble Nature Reserve on Rathlin Island to Castle Archdale in County Fermanagh, you are guaranteed to be seduced by the history and majesty of Northern Ireland's countryside.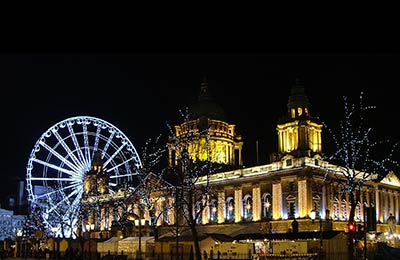 St George's Market in Belfast