Dover to Calais Ferry
Dover to Calais ferries with P&O Ferries and DFDS Seaways - Prices from £42
Dover to Calais is the quickest and most frequent ferry crossing from England to France. You can reach France in just 90 minutes, and you have 38 daily crossings to choose from. You can travel from Dover to Calais with DFDS or P&O Ferries, and with AFerry, you can compare both companies by price, sailing time, and even review score to help you make the right choice for your trip.
Dover Calais ferries are popular because there are sailings at all hours of the day, making it a convenient crossing whatever your plans are either side of the channel. Of course, the fact that it's one of the cheaper ways to travel to France also makes it an appealing route for many people.
Similar alternatives include ferries from Dover to Dunkirk, and the Eurotunnel service with trains from Folkestone to Calais via the channel tunnel. We'll also include these routes in our search results to help you get the whole picture and make an informed decision.
See below for timetable information, or alternatively use our Ferry Search above to find live route information and the latest prices.
Alternative Routes
45 crossings daily

35 min
Cheap Dover to Calais prices
For the next 7 days
Based on bookings travelling this week with a car.
About Dover
Dover is the most popular port in England, and the gateway to France for many British tourists. Dover faces the narrowest part of the channel, and on a clear day you can see France from the ferry port. You can book ferries from Dover to Calais or Dunkirk with AFerry. With so many reasons to travel by ferry it is no surprise that Dover ferry routes are some of the most popular ways of travelling to or from the UK.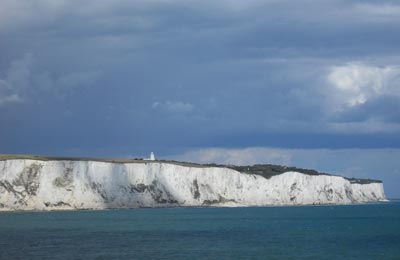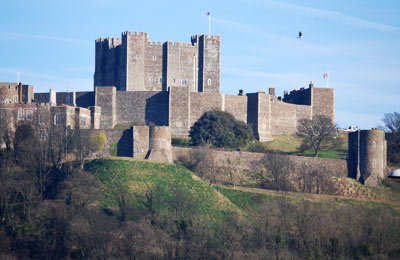 As the shortest channel crossing between England and France, Dover has been a popular port for people who wish to explore mainland Europe. The iconic chalk cliffs have become known as the White cliffs of Dover, and can be seen for miles across the channel. Dover prides itself in its transport services and tourism, and has 3 museums; the main Dover Museum, the Dover Transport Museum and the Roman Painted House.
About Calais
Tax is lower on cigarettes and alcohol in Calais, which means mean English tourists flock there for the 'booze cruises'. There are large warehouses around the town in which you can take advantage of these cheap prices, most famously Eurocity.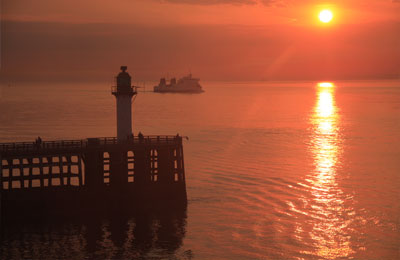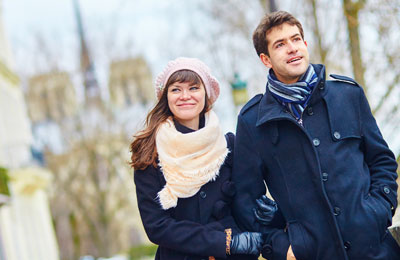 Calais ferry port is located across the Channel from Dover on the coast of northern France, it is situated on the most frequented shipping lanes in the world and is the closest French town to the United Kingdom. Calais ferry port is conveniently situated to allow easy access to the port itself but also to shops and restaurants in the surrounding area by being directly linked to the French motorway system. Ferries from Calais ferry port can be booked easily through AFerry.
Dover/Calais port addresses
---
Dover
Eastern Docks, Dover, Kent, CT16 1JA, United Kingdom
Calais
Car Ferry Terminal, 62100 Calais, France
Reviews
DFDS provides an excellent reliable service

Review by Anon

Excellent crossing post storm Ciara.

Excellent crossing post storm Ciara. We took advantage of the sunny view from the lovely restaurant. Great eggs benedict and the service was great. We usually use the tunnel which although quicker, is not as pleasurable.

Review by DEIRDRE MULCAHY

Get ready France here we come

Lots of confusion ad to where to check in lanes all coned off appeared we should go lorry route on overhead gantry at 3am Boring quiet sailing with cold insipid expensive food. Soggy toast and fatty bacon. Half toilets closed and very little for children to do buy thank fully was so quiet noone to bother with then running up and down.

Review by Anon

With a young family the ferry allows us to break up the car journey, walk around the decks and outside ferry areas, have a good meal and the kids can play in the soft play area and arcades.

Review by PAUL TAYLOR

Nice smooth experience from Dover to Calais. I would use them again.

Review by Anon
Dover to Calais Popular Questions
Want to know more about your journey from Dover to Calais? We've compiled some of the most frequently asked questions by our customers to help you plan your journey.
How long does the ferry from Dover to Calais take?
The average journey time by ferry between Dover to Calais is 1 hrs 30 min. The journey time may vary, so use our booking engine on this page to search for a specific travel date.
How fast does the ferry from Dover to Calais travel?
The fastest journey time by ferry from Dover to Calais is 1 hrs 30 min, with P&O Ferries.
How much does the ferry from Dover to Calais cost?
The cheapest ferry ticket price from Dover to Calais found by AFerry customers recently is £42, travelling with DFDS Seaways on Wednesday, 18 March 2020. Prices also vary depending on the date and time of travel.
What time does the first ferry from Dover to Calais leave?
The first ferry from Dover to Calais leaves at 00:45 with P&O Ferries. Times may vary depending on the time of year.
What time does the last ferry from Dover to Calais leave?
The last ferry from Dover to Calais leaves at 23:50 with P&O Ferries. Times may vary depending on the time of year.
Which ferry companies operate between Dover to Calais?
Ferries travelling from Dover to Calais are operated by DFDS Seaways and P&O Ferries.
Looking for more information?
If you're looking for the return journey, check out Calais to Dover.