Dover Ferry
Coronavirus ferry travel advice
Book a ferry to Dover with AFerry. Ferries to Dover, in England, are available from France. You can take a ferry to Dover from Calais and Dunkirk.
Dover ferry routes
DFDS sail up to 15 crossings per day with a sailing duration of 1 hour 30 minutes. P&O Ferries sail up to 24 crossings per day with a sailing duration of 1 hour 30 minutes.
When you search for Dover ferries with AFerry, we also compare ferries from Dunkirk and Eurotunnel trains so you get the whole picture. We also automatically give you access to the latest offers and deals whenever you search. There is no need to enter a special promo code to get our best prices.
Dover is one of our most popular ports, to get your desired sailing or to get a cheap price, we always suggest booking early.
Latest prices
Route
Price
Fare Details
Calais - Dover
(P&O Ferries)

Booked: Tuesday, 1 September 2020
Travel: Friday, 23 October 2020 (One Way)
Car + 2

Calais - Dover
(DFDS Seaways)

Booked: Wednesday, 30 September 2020
Travel: Sunday, 4 October 2020 (One Way)
Car + 2

Dunkirk - Dover
(DFDS Seaways)

Booked: Wednesday, 2 September 2020
Travel: Friday, 16 October 2020 (One Way)
Car + 2
About Dover
Dover is the most popular port in England, and the gateway to France for many British tourists. Dover faces the narrowest part of the channel, and on a clear day you can see France from the ferry port. You can book ferries from Dover to Calais or Dunkirk with AFerry. With so many reasons to travel by ferry it is no surprise that Dover ferry routes are some of the most popular ways of travelling to or from the UK.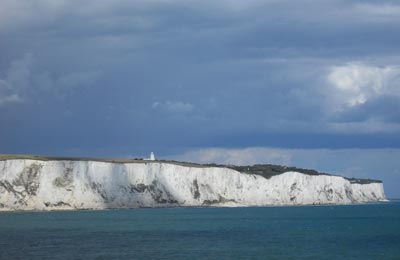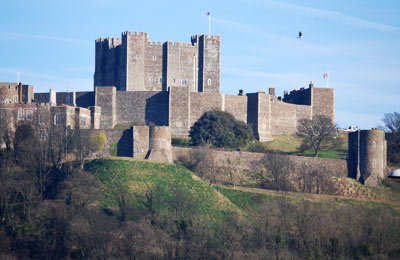 As the shortest channel crossing between England and France, Dover has been a popular port for people who wish to explore mainland Europe. The iconic chalk cliffs have become known as the White cliffs of Dover, and can be seen for miles across the channel. Dover prides itself in its transport services and tourism, and has 3 museums; the main Dover Museum, the Dover Transport Museum and the Roman Painted House.
Dover Ferry Companies
Ferries to and from Dover are operated by DFDS and P&O Ferries. Because 2 ferry companies operate in and out of Dover, comparing can be very useful to help you find the best price at the best time for you. When you search for a ferry to Dover, we will always show a range of times just in case it's cheaper earlier or later than the time you select. We'll also show you results for similar ports like Folkestone to help you find the best times and prices to suit your plans.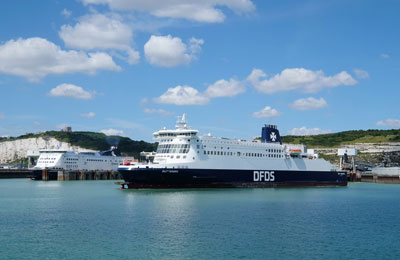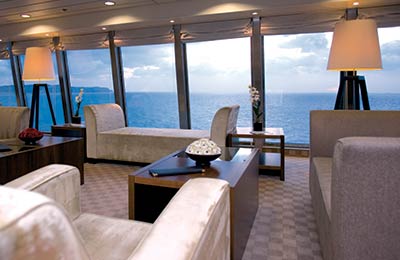 Dover ferries with DFDS and P&O Ferries are known for their comfort and high levels of service, and you will feel like your holiday has begun the moment you step on board. Travelling to Dover will be easy and hassle free. Start by making your booking today, it's quick and easy.
On board with DFDS
You will find all DFDS Seaways ferries offer the highest standards of comfort and all the on board facilities you could possibly dream of. You can choose from several different cabin types to suit your needs or choose a luxury one if you want to treat yourself. On board you will also find up to seven different restaurants offering top class cuisine as well as a number of bars and lounges. If you are travelling with children, you will find different forms of entertainment, treasure hunts and other activities to keep the little ones busy and entertained.
On board with P&O Ferries
P&O currently has a fleet of 20 modern ships and take a lot of pride in offering a full range of services and features on board to ensure that you always have a relaxing and stress-free journey.
On board most P&O ferries, you will find a buffet restaurant and a fine dining experience. In addition, there are shops, and for the little nippers, the Kid's club, to keep them entertained during the journey.
For the ultimate in relaxation, there's also the Club Lounge. Here, in this peaceful lounge with stunning sea-views, you'll be able to enjoy a free glass of champagne or soft drink, served at your table. There's also a special Club Lounge menu for light snacks and drinks and complimentary newspapers.
P&O operates conventional ferries where, if the weather's nice, you can sit outside with a variety of seats. It's the perfect place to enjoy the summer sun as you hop over to your destination.
P&O also offer a wide range of cabins, from simple interior rooms, to exclusive suites with breath-taking ocean views. You can book cabins on their overnight sailings and even some day-time sailings. As you reach the end of your booking, you'll be presented with the option to book a cabin. Here we list all the available cabin types, their facilities and for each cabin, you'll also find a photo so you'll know exactly what you're booking.
You'll also find the option to book priority boarding so you don't have to wait around getting on or off the ferry.
Dover Port Facilities
In the ferry port of Dover you will find a currency exchange office, Cafe Ritazza, a Burger King and several outlets at the Eastern Docks. At various places in the ferry terminals you will find unisex toilet facilities for disabled people.
The Dover ferry terminal consists of 6 main areas: the Travel Center, the boarding lounge for foot passengers, the arrival hall and three passenger buildings with various facilities such as Cafe Ritazza, a Burger King, the Barnacles Bar, as well as several snack bars, toilets (including disabled toilets), showers, baby changing room, public telephones, vending machines, car rental Europcar & Avis, a children's play area, the National Westminster Bank and a exchange office. Near the entrance to the Eastern Docks is also a BP petrol station.
In addition to the ferry terminal parking facilities for short and long-term parking are available for a fee. In the parking garage you will find parking spaces for disabled people on the first two levels. With the lift you can then go to the Travel Center to check in.
Getting to Dover
By car
Dover is located about 112km south of London, directly linked to the M2 / A2 and M20 / A20, which are connected to the M25 motorway.
From the M2, follow the A2 motorway and the M20, follow the A20 towards Dover. Then follow the signs for the Eastern Ferry Docks.
By train and bus
There are regular trains from London Victoria or Charing Cross to Dover Priory. The journey time is 1 hour 45 minutes. There is a shuttle bus every 20 minutes (between 7 am and 10.30 am) between Dover Priory and the Ferry Terminal. National Express coaches connect Dover to Victoria Coach Station in London. The journey time is 2 hours 30 minutes.
Accommodation in Dover
If want to stay a little longer in or around Dover, visit our accommodation page for the best prices and one of the largest selections of hotels / B&Bs available online!
Port Addresses
DFDS
Eastern Docks, Dover, Kent, CT16 1JA, United Kingdom
P&O Ferries
Eastern Docks, Dover, Kent, CT16 1JA, United Kingdom
P&O Ferries
Eastern Docks, Dover, Kent, CT16 1JA, United Kingdom
Reviews
Много добро пътуване.

Review by DANIEL SABEV

Delays due to poor weather. DFDS coped really well and kept us fully informed. All staff helpful.

Review by J SNEL

26 Feb 2020

Calais to Dover check in

There were long queues when we arrived to the port in Calais. The overall process to go through the French border checks and then UK borders checks was chaotic. There should have been clear indication of where to queue in the first instance based on where the DFDS and PO check in was as cars were at a stand still trying to get to the DFDS checkin which was empty but could not get through the long P and O queues!

Review by Anon

26 Feb 2020

Enjoyable ride

We always use ferret to travel to Europe and always been satisfied with the port integration officers and the port staff

Review by HAMED JAFAR

Always a good crossing. Easy to book and reasonably priced too. Really easy to alter bookings too if necessary. Altogether a great service

Review by YVONNE