Ferry to Dublin
Coronavirus ferry travel advice
Book a ferry to Dublin with AFerry. Ferries to Dublin, in Ireland, are available from England, France, the Isle of Man and Wales. You can take a ferry to Dublin from Cherbourg, Douglas, Holyhead and Liverpool.
Dublin Ferry Routes
Irish Ferries sail up to 6 crossings per day with a sailing duration of 3 hours 15 minutes for Holyhead to Dublin. Irish Ferries also sail from Cherbourg to Dublin. Isle of Man Steam Packet sail to and from Douglas to Dublin mostly in the spring and summer with a sailing duration of 2 hours 55 minutes (Manannan) or 4 hours 45 minutes (Ben-my-Chree). P&O Ferries sail up to 2 crossings per day with a sailing duration of 8 hours 30 minutes for Liverpool to Dublin. Stena Line sail up to 4 crossings per day with a sailing duration of 3 hours 15 minutes for Holyhead to Dublin.
Latest prices
Route
Price
Fare Details
Holyhead - Dublin
(Stena Line)

Booked: Saturday, 15 August 2020
Travel: Sunday, 13 September 2020 (One Way)
Car + 1

Holyhead - Dublin
(Irish Ferries)

Booked: Thursday, 27 August 2020
Travel: Sunday, 27 September 2020 (One Way)
+ 1
About Dublin
The cosmopolitan and lively Irish capital should be a must on anybody's European itenerary. Like any European capital it would be impossible to describe all there is to see and do.
The number one attraction is the Guinness Storehouse - the home of the "The Black Stuff" Dublin's world famous dry stout. Other attractions include St Patrick's cathedral - what would Ireland be without St Paddy after all? The National Gallery, Botanic Gardens, the National Acquatic Centre, Dublin Zoo, the list is almost endless.
However, when you leave Dublin, what you'll remember above all else is the atmposphere: the small pubs filled with dancing and music and perhaps above all else the friendliness of the locals.
Dublin Ferry Port is Ireland's largest and busiest ferry port and is situated right in the heart of Dublin, one of the most vibrant capital cities in Europe. It is situated just 2 miles away from the Dublin city centre and is easily accessible by car or by public transport.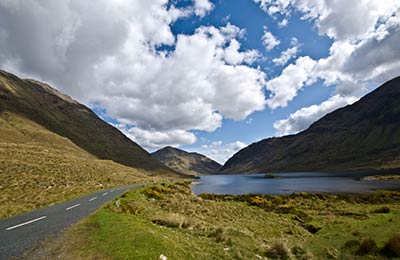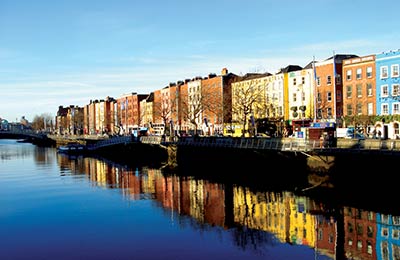 Millions of passengers enjoy a trouble free travel through the Dublin Ferry Port every year. Five ferry companies operate up to sixteen sailings daily, connecting Dublin with Holyhead, Liverpool, Douglas and Cherbourg. All these ferries can be booked through AFerry
The city of Dublin is over 1000 years old and has developed into a city, rich in culture and heritage. Dublin has always been a centre for the development of art, literature and theatre. James Joyce, Oscar Wilde, Colin Farrell and Bono (U2 lead singer) are just a few of the famous Dubliners.
A great way to see Dublin is by walking along the banks of the river Liffey which flows all along the centre of Dublin. On either sides of the river, lie numerous visitor attractions.
Dublin Ferry Companies
Ferries to and from Dublin are operated by Irish Ferries, Isle of Man Steam Packet, P&O Ferries and Stena Line. Because 4 ferry companies operate in and out of Dublin, comparing can be very useful to help you find the best price at the best time for you. When you search for a ferry to Dublin, we will always show a range of times just in case it's cheaper earlier or later than the time you select. We'll also show you results for similar ports like Cork, Dun Laoghaire and Rosslare to help you find the best times and prices to suit your plans.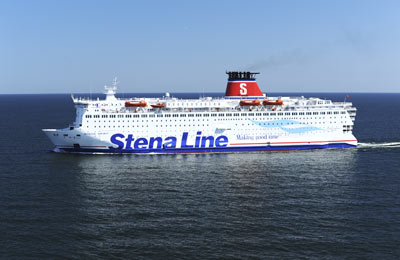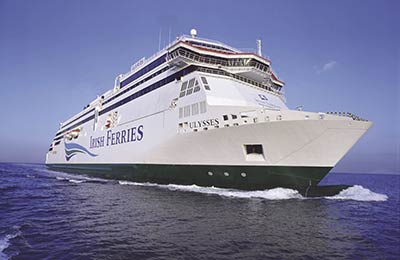 Ferries with Irish Ferries and other companies operating to and from Dublin are known for their comfort and high levels of service, and you will feel like your holiday has begun the moment you step on board. Travelling to Dublin will be easy and hassle free. Start by making your booking today, it's quick and easy.
Port Addresses
Irish Ferries
Terminal Road South, Dublin City, Dublin 1, Republic of Ireland
P&O Ferries
Terminal 3, Dublin Port, Dublin 1, Republic of Ireland
Isle of Man Steam Packet
Terminal 1, Dublin Port, Terminal Road South, Dublin 1, Republic of Ireland
Stena Line
Terminal 2, Alexandra Road, Dublin 1, Republic of Ireland
Reviews
01 Mar 2020

Delayed by weather

Sailing was delayed by weather. Got a voucher to spend onboard from Stena. Very happy.

Review by Anon

06 Feb 2020

Exelent service

Comfortable bed, good food.

Review by GINTARAS

Upgrade worth every cent. Well done Stena

Review by Andrew Cairns

Access to accommodation deck difficult. Cabin clean and comfortable. Out bound sailing was at least two hours late leaving. Ashore and on board staff helpful.

Review by Alasdair Gardner

24 Nov 2019

Night time travel.

Has been a pleasant journey, the sea it was calm, and the crew very good.

Review by MARIO EDUARDO GONZALEZ