Ferry to Dunkirk
Dunkirk Ferries - Prices from £99
Book a ferry to Dunkirk with AFerry. Ferries to Dunkirk, in France, are available from England. You can take a ferry to Dunkirk from Dover.
Dunkirk Ferry Companies
Ferries to and from Dunkirk are operated by DFDS. When you search for a ferry to Dunkirk, we will always show a range of times just in case it's cheaper earlier or later than the time you select. We'll also show you results for similar ports like Calais to help you find the best times and prices to suit your plans.
Dunkirk ferries with DFDS are known for their comfort and high levels of service, and you will feel like your holiday has begun the moment you step on board. Travelling to Dunkirk will be easy and hassle free. Start by making your booking today, it's quick and easy.
Dunkirk Special Offers
25% Off Ferries to France with DFDS!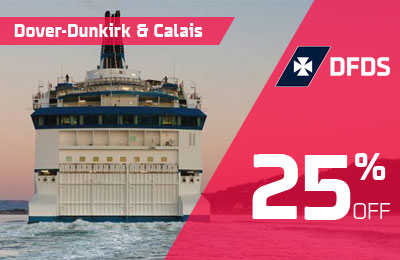 Book by 24/04/2019. Travel until 21/12/2019.
Sail with DFDS and save 25% Perfect for a last minute Easter getaway or your next holiday! You can book one-way or return sailings from Dover-Dunkirk or Dover-Calais up to 21/12/2019. Book by 21/04/2019. Depart UK or France. From just £34.00 one way.
Short Breaks to France from £45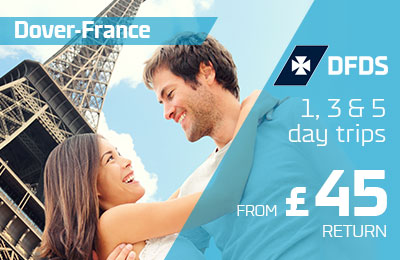 Travel before 17th December 2019, book this great offer and save.
Hop over to France and sail from Dover to Dunkirk or Dover to Calais. and explore all that France has to offer. 1 Day return from £45, Day return from £75, 5 day Return from £85.
About Dunkirk
Dunkirk Ferry Port is situated across the Channel from Dover on the coast of northern France. The Port of Dunkirk is France's third largest port, because it is conveniently located between London, Brussels and Paris. Dunkirk allows passengers to quickly and efficiently embark, or disembark at the port, making it more convenient than the nearby port of Calais (45km away), which has far more sailings per day.
Dunkirk is a city that has a lot to offer, from shops and great traditional restaurants, to sandy beaches and a brand new golf course. From Dunkirk port, you can easily reach the two covered shopping malls in the city centre, with all major brands and free car parking facilities available.
Dunkirk has 15 km of beautiful sandy beaches, known as the "Dunes de Flandre", making it an ideal holiday destination for families and surfers. In Dunkirk you can taste original Flemish food as well as fantastic fresh local seafood. Dunkirk is also well known for its new 27-hole golf course, which is located just 15km from the port.
Ferries to and from Dunkirk
DFDS Seaways operates a fleet of three modern purpose built vessels on their cross-channel route between Dover and Dunkirk. This service is purely for motorists - no foot passengers or coaches are able to travel on this route, making getting on and off very quick. On board you will find A luxurious VIP lounge, a wide selection of restaurants and bars, dedicated play areas for children and shops offering great value.
So book your Dunkirk ferry quickly, easily and securely today with AFerry!
Dunkirk port facilities
The Port of Dunkirk offers a wide range of facilities for disabled people. Any member of staff is able to help, should you need assistance. In the terminal there is a full range of services from lounges, bars, toilets and children's play areas to car parking facilities.
Getting to Dunkirk
Dunkirk Ferry Port is well linked to the main European motorway network.
From the A25 (Lille) motorway: Join the A16, in the direction of Calais.
From the A16 (Dunkirk/Belgium): Take exit 53 (24), and follow signs towards the `Port Rapide/Car Ferry' terminal.
From St. Omer: The D600 crosses the A16 direct to the Terminal.
From Dunkirk Centre: Follow signs for Calais - take either the A16 to exit 53 (24) or the RN1, and follow signs to `Loon Plage/Car Ferry'.
Special Offers - Terms and Conditions
25% Off Ferries to France with DFDS!
25% off Dover-Calais and Dunkirk, one way and return bookings depart UK or France. From £34/€41 Book by 24/04/19, for travel dates 17/04-21/12/2019. 25% discount on all vehicles, except CARZ (4x8m) and Vans.
Short Breaks to France from £45
Terms: Subject to terms and conditions. Excludes these dates: February 15-17, 22-24, April 5-7, 12-14, 19-21, 26-28, May 24-26, 31, June 1-2, 14-17, July 11-31, August 1-31, September 1-4, October 18-20. Offer is available on return bookings only, with a car and up to 9 people - or with a motorcycle, with or without side car and up to 2 people. Outward journey must start in Dover. Offers may be withdrawn at any time.
Reviews
Good travel

Review by Anon

Journey went smoothly, definitely going to use again in the future.

Review by GEDIMINAS SMITRIUS

Everything went smoothly. Check in, drive in, drive out, and the sailing was quick and easy. The coffee was perfect. Thanks!

Review by ZOLTAN VARGA

Always great customer service

We are frequent users of DFDS from Dover to Dunkirk and have always had great service . Would and do recommend them to our friends and family .. AFerry have been great with offering a great range of fares from different carriers.

Review by Anon

Arrived early and was able to get on an earlier sailing, the same on return sailing no problems at all would recommend you anytime

Review by ROGER WORTHINGTON