Eurotunnel Crossing information
Eurotunnel le shuttle passengers remain with their vehicle for the duration of the short 35 minute crossing. You are free to relax in your vehicle or get out and stretch your legs. Visual display screens on board provide information about the journey and staff are on-hand throughout the journey as well as when you arrive and leave to help and answer any questions.
From the UK Eurotunnel is easily reached via the M25 and M20. Simply leave junction 11a to go straight to the Eurotunnel check in. You must check in at least 30 minutes and no more than two hours before your departure time. You can buy fast food and snacks at the Eurotunnel passenger service.
---
Nothing is simpler and faster than Eurotunnel's drive on drive off Folkestone - Calais service. So what are you waiting for? Book now.
Pet Booking Information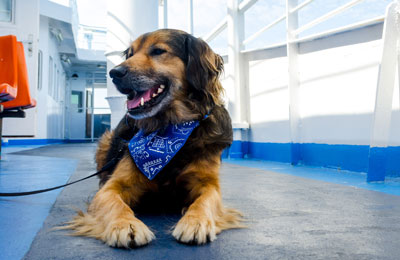 You can book your cat or dog on a Eurotunnel train with AFerry. Just choose your route and then select the number of cats or dogs you are sailing with.
Note that when returning to the UK pets are required to go to the Pet Control Building at the French terminal.
Note that to take your pet to and from the UK to mainland Europe and Ireland you will need a pet passport. To find out more about pet passports and travelling with your pet see our pet travel guide.