A Ferry Guide to Greece and the Greek Islands | How To
Introduction
Greece is one of the world's largest passenger ferry markets. In 2008, 18.3 million people travelled on ferries in Greece. For a comparison, 15.3 million people travelled between England and France in 2014.
The Greek ferry market is so large due to the huge number of islands. There are approximately 6,000 islands of which 227 are inhabited.
The high period for tourism in Greece is June to August and ferries can and do become full in this period. Therefore it is well worth booking in advance on sites like AFerry. You can use our desktop site or book on your mobile even in Greece.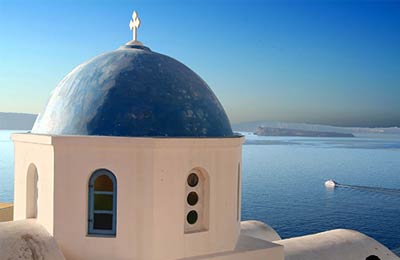 Buying Ferry tickets online
As tourist numbers pick-up in the summer it becomes increasingly risky to not reserve tickets in advance. If you plan to travel anywhere in June, July or August or during Greek public holidays, there is every chance that you may not find a sailing when you want to travel. And there is every chance that you won't find reserved seating or a cabin.
It's also worth noting that while you may be going to a less popular spot, most ferries do end up at the popular ports like Santorini or Piraeus. So even if your final destination is a less popular island, this is no guarantee of finding a ticket without booking in advance.
However, even if you reserve a ticket online, you'll still need to swap the confirmation for an actual ferry ticket. There are no exceptions. The system could be changing soon, but this may not be for a few years.
But booking online and collecting your ticket is quite straight-forward. The major ports: Piraeus, Santorini, Mykonos, and others will have a booth or office at the port that will certainly be opened in time for your departure - even at night. For the other islands where the port is in the town or village, you have two choices. One, use any agency that sells ferry tickets for the ferry company you'll sail with - you'll find most agencies sell tickets for all the ferry companies. All you have to do is present your ID and booking confirmation to get your ticket printed. There might be a small charge of two or three Euros to print your ticket.
Or the second option is to go to the 'central agency'. By using the central agency you won't have to pay any fee. The central agency is normally located close to the port. You can find the name of the agency by going to the website of your ferry company.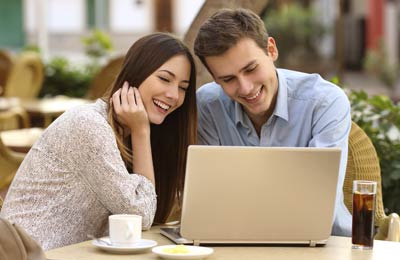 Greek ferry news: E-ticketing coming soon
In January 2015, the then Greek minister of shipping, Miltiadis Varvitsiotis, signed a draft Presidential Decree to establish complete electronic ticketing in the Greek ferry market. This would mean that passengers could to board ferries with just a confirmation and their identity document. Specification for a new electronic booking system have been put forward, however, it is not known when complete e-ticketing will be available.
Getting to Piraeus port from the airport and finding your way around
Flying in to Athens and then taking a ferry to your destination is often a lot cheaper than taking a connecting flight. And in the summer, there's also every chance you won't find a flight to the smaller islands. For many taking the ferry is also a very enjoyable experience - giving you the chance to get a sneak peak of different islands on your way. As Nikos Kazantzakis writes in Zorba the Greek: "Happy is the man, I thought, who, before dying, has the good fortune to sail the Aegean Sea."
If taking the ferry from Athens, you will use the port of Piraeus - pronounced pea-ray-us. This is one of the largest ports in the Mediterranean. About 22 million people use it every year.
Luckily, getting to the port of Piraeus from the airport is very easy. There are three main choices: taxi, bus or metro.
Taxi:
Availability: Available at all times.
Approximate costs:
Travel time: About 50 minutes depending on traffic.
Metro:
Availability: 06:30 - 23:30.
Departures: Every 30 minutes.
Directions: Take the metro to Monastiraki station. Change in Monastiraki to the green line to Piraeus. The port is opposite the station. There is a pedestrian bridge over the road.
Approximate costs: One way: 8 Euros. Return: 14 Euros. Children under 6 travel for free.
Travel time: About 1hr 10 minutes.
Bus:
Availability: Available all day and night.
Departures: Every 30 minutes.
Location: Bus stop located at arrivals between exit 4 and exit 5.
Directions: Use bus: X96: Piraeus - Athens Airport. The port is on the opposite side of the bus stop. There is a pedestrian bridge over the road.
Travel time: About 50 minutes depending on traffic.
Cost: About 5 Euros. Children under 6 travel for free. Half price tickets available for students and those under 18 or above 65.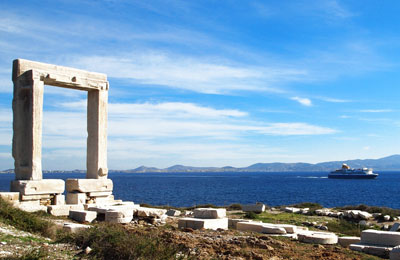 Printing your ticket and finding your ferry in Piraeus port
Most the major ferry companies departing from Piraeus have ticket collection booths or offices located in the port itself: Aegean Speed Lines, Anek-Superfast, Blue Star Ferries, Hellenic Seaways and Minoan Lines all have booths or offices in the port. If not in the port, there will be an agency immediately outside the port once you cross over the pedestrian bridge.
In the port, most booths or offices are located near the pedestrian bridge or taxi-point near gates E6 or E7. Many now have electronic self-service points similar to those at airports and even if you sail at night, the ferry office will open with enough time for you to collect your ticket.
You also may be able to pick up your ticket from an agency at the airport by presenting your booking confirmation and ID. There may be a small charge for this, but if you're in a hurry, it may be more convenient.
Be warned though, Piraeus is a large port, and it could take up to 15 minutes to reach your departure gate. Please bear this in mind when calculating travel times.
Piraeus has 12 gates. Which gate you use will normally depend on where you are travelling to. However, occasionally, fast ferries may use a different gate to conventional ferries. Your ticket, once printed, will normally tell you which gate to go to.
If nothing is written on your ticket, there is an information booth and you will find port police who will be more than willing to assist you. The port police are around at night and during the day. It's also more common in Greece for people to give the ship name rather than the ferry company when asking for directions - for example "Blue Star Delos" or "Highspeed 5".
Taking your car on the ferry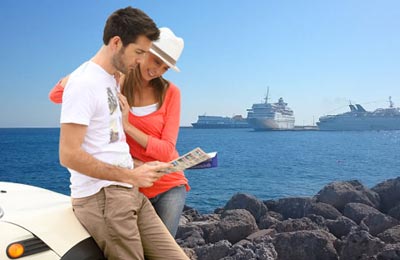 Taking your car on a Greek ferry can be quite different from taking your car from Dover to Calais.
Most ferries have rear entrances and exits only, so you will probably have to reverse onto or on board the ferry. The first time, this can look difficult and you may feel a bit nervous. You will also be required to park very close to other vehicles. However, as you park, a guide will assist you. And normally after the first time, you wonder why you were so worried to start with.
It's also worth noting that in Greece, the closer you are to your neighbouring vehicle, the louder the instructions will be. While in the UK, we often become quieter. So don't make the mistake of presuming that because someone is yelling "Ella, ella, ELLA!" or "Come, come, COME!" that you have a few metres to go. It probably is just a few centimetres.
Boarding and disembarkation is often hectic too, especially as the port you arrive at or leave from could be very small , while in the summer there could be many passengers and vehicles. Ferries are also the life-blood of the smaller islands and so you should expect many lorries as well as cars.
Passengers will often embark and disembark at the same time as vehicles and will cross each other's paths. Accidents are very rare as Greeks are used to this system - but it certainly pays to drive slowly and to stay alert.
Also a word of warning: If you are island hopping and only going from one island to another close by, make sure you tell the ferry staff as you arrive at the port and also as you board the ferry. Very often, you'll find most people are going to the large ports like Piraeus. If you aren't travelling far, you may be directed to another part of the ferry where vehicles going further afield can't block your exit.
Last but not least, you should know that roundabouts in Greece work differently to the UK. In Greece, the vehicle entering the roundabout has priority, and if you are going around the round-about, you have to give way. Of course, in the summer, many drivers won't be Greek and possibly won't know this. So either way, it pays to be careful at roundabouts. Luckily, however, they are few and far between on the Greek islands.
Taking your dog on the ferry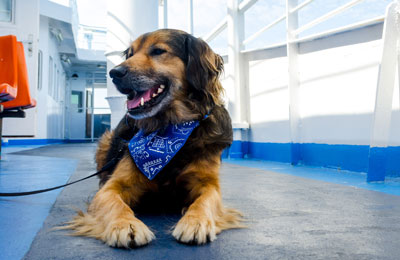 The official advice may be that you have to book your dog in a pet kennel, the truth is that if you are taking a conventional ferry (not a fast ferry) that dogs are welcome on board with most ferry companies. You'll naturally have to keep your dog on a lead at all times and if your dog is prone to misbehaviour, a muzzle is advisable too. You'll also have to stay on deck rather than inside the ferry - unless you book a pet cabin - but there are shaded areas.
However, that is not to say that pet kennels are not a good idea. Especially if you have a long journey and want to spend some time inside the ferry or have reserved seating. Most kennels are located on the uppermost deck and with most ferry companies you will be able to visit your pet during the journey and even take him out for a walk.
If your dog isn't good at handling stairs, then most of the large ferries (for example those operated by Blue Star Ferries) also have lifts - note that the Greeks use the French word "ascenseur", pronounced ah-san-sir, for lifts. However, there is no guarantee that the ferry will have a lift, therefore it may be advisable to research your ship, before you travel.
When boarding and disembarking with your dog, you may also have to wait until most other people have gone before you. It's also worth remembering that while most Greeks are dog-lovers, Greece in the summer may have tourists from all over the world. You should not expect everyone you encounter to be from a dog-loving culture.
Most importantly, don't forget that in the summer temperatures are often above 30 degrees centigrade and can reach as high as 40 degrees centigrade, so make sure you have a means of giving your dog water. Fabric dog bowls can come in handy if you travel in Greece with your dog. You'll be able to buy water on board. And if your dog is in a pet kennel make sure that you position the bowl in such a way that it cannot be easily knocked over.
Many ferry companies also offer pet cabins. These cabins are normally the same as ordinary cabins but have laminate flooring in case of accidents.
However, if you are travelling on a high speed ferry, you will have to place your dog in a pet-kennel. Only the larger high speed ferries will offer these. Due to how fast these ferries travel, they do not allow passengers on deck during the journey and you will also not be able to visit your pet as you travel. Many Greeks, prefer to travel with conventional ferries if travelling with their dog. There is also less chance of a bumpy ride on conventional ferry.
Fast ferries v conventional ferries
There are generally two types of ferries when travelling in Greece: fast ferries and conventional ferries. Fast ferries can either be large catamarans capable of transporting vehicles and passengers or high-powered passenger-only speedboats that may be smaller than many yachts. Conventional ferries are the type which typically operate the Dover-Calais route. These can be very large with multiple decks and facilities, including restaurants, cafes and bars.
Fast ferries can offer a considerable time saving over conventional ferries but also have higher ticket prices. If travelling from Mykonos to Naxos in July, for example, you will save almost an hour with a fast ferry but the fast ferry will cost £21 and the conventional ferry £15. However, there are some disadvantages too. Firstly, there aren't many facilities like cafes or restaurants. In fact, normally there will only be a café and toilet facilities. You are also not allowed out on the deck due to the speed at which the vessels travel.
In addition, while large fast ferries will most often offer a very smooth ride, with poor weather, crossing with a smaller fast ferry can be an unpleasant experience and not for those with weak sea-legs. On the other hand, most modern conventional ferries have advanced stabilisation systems to ensure a smooth journey in any weather. It should be noted though, that most of the year the seas in Greece are smooth.
Another factor to consider when choosing between a fast or conventional ferry is the wind. Conventional ferries can travel with winds up to 8 or 9 on the Beaufort scale, while fast ferries normally won't travel with winds above 6, or will travel only very slowly. High winds are most likely from around 15th November to 15th January and from 15th June to 15 July.
Luckily delayed sailings due to wind are a rarity. But if you're scheduled to sail on a fast ferry and the wind seems high, it may be worth consulting a ticketing agency. Sometimes it's simply easier to swap to a conventional ferry to avoid a delay. Though the most a sailing is delayed for is normally one day.
Summary - Fast ferries:
Large catamarans or high powered speedboats.
Advantages:
Much faster than conventional ferries
All tickets include reserved seating
Embarkation and disembarkation normally quicker and more straight-forward
Disadvantages:
More expensive
Susceptible to high winds (won't sail above 6 Beaufort)
On small boats, rough seas can mean a rough crossing)
Have to keep dogs in a dog kennel
Few facilities
You cannot access the deck
Some ferries don't accept vehicles
Summary - Conventional ferries:
Normally large ferries with multiple decks.
Advantages:
Cheaper
More stable crossings. Advanced stabilisation system mean a smooth journey in any weather
More facilities - restaurants, bars, cafes etc.
All ferries accept vehicles
You can normally take your dog on deck
Disadvantages:
Slower than fast ferries
You have to pay extra for reserved seating
Deck space can be crowded in the summer
Embarkation and disembarkation can be chaotic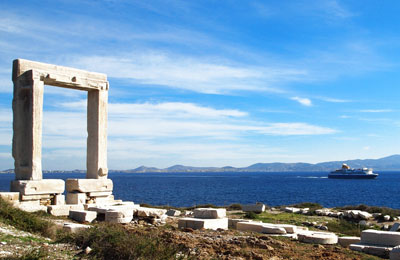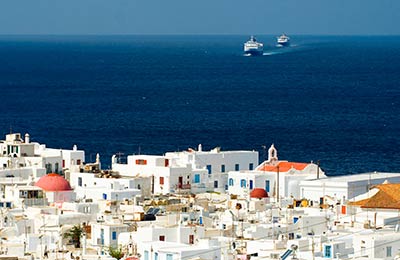 Other advice
When should I arrive at the port?
Official advice is normally to arrive one hour before departure if you are a foot passenger and two hours if you are with your vehicle. However, in reality, if you arrive later as a foot passenger there should be no problem. There is no check-in procedure like at airports, and your ticket is only checked as you board the ferry.
Keep hold of your ticket
Once you board, don't throw away your ticket. Your ticket may be inspected later on. This is because some people may try to travel further than their ticket officially allows.
Popular island hopping itineraries
Island hopping in the Cyclades
The Cyclades are probably the most famous group of islands in the Aegean and this region accounts for the most ferry traffic.
Recommended Cyclades island hopping route: Mykonos - Naxos - Santorini
Ferry travel times:
Mykonos to Naxos:
Fast ferry: 1hr 30 min
Conventional ferry: 2hrs 20
Naxos to Santorini:
Fast ferry: 1hr 35 min
Conventional ferry: 2hrs
Santorini to Mykonos:
Fast ferry: 3hrs 10 min
Ferry travel normally possible all year but fast ferries are normally in the summer months only. Separate ferries can be taken between Santorini and Mykonos at other times.
Mykonos
Mykonos is the ferry hub of the Cyclades. Most major routes in the Cyclades go through Mykonos and with cheap flights to its international airport from companies like EasyJet it's an ideal place to start or finish an island tour.
There are two ports on this island; the old port and the new port. The old port is in town and only a few of the smaller fast ferries now dock here. The new port is a bit outside town but can be reached by bus or taxi but many hotels will offer a free transfer. A free transfer can be well worth it especially in the summer when finding a place on the bus, or an available taxi, can be difficult.
While knowing what port you will leave from may be confusing for tourists, all hotel-owners and taxi drivers will know what port to go to. However, this will depend on the ship name, not the name of the company. Some companies will use both ports with their smaller vessels going to the old port. Therefore, it's well worth noting your ship name and having this ready if organising a transfer.
Mykonos is famous for its nightlife. You might go out for dinner from 8pm but the nightlife really gets going from midnight to dawn. Most of the beach-bars also turn into impromptu night-clubs as dawn approaches. Luckily, if you want to escape to somewhere more peaceful, many islands are just a short hop away, including Santorini and Naxos.
Santorini
Santorini (also known by its ancient name: Fira) also has cheap flights to its international airport and numerous ferry connections so you could also start your tour here. The main inter-island ferry port is known as Athinos port. If travelling to the satellite island of Thirasia there are also departures from the much smaller port in Oia.
Athinos port is located about 15 minutes from the main town of Fira. There is a bus service, but when arriving in the summer finding a seat can be very difficult with many people rushing to board. Orderly queues don't generally happen in Greece. It can also be equally hard to find a taxi and therefore if you can organise a transfer, this is often the simplest and best option.
Santorini is famous throughout the world to such an extent that many tourists may know Santorini but may not know it's in Greece. Santorini draws tourists from all over the globe with its stunning caldera views. The island is also now commonly believed to be the mythical island of Atlantis. Remnants of the amazingly accomplished pre-historic Minoan civilization, support this view.
While Santorini may have great beaches, it's not exactly famous for them. Luckily other islands are just a short hop away including Naxos.
Naxos
Like many Greek islands, the port of Naxos is located in the Chora (pronounced "Hora") this is the name given to the main town on islands where the name of the town is the same as the island. If you plan to stay in town, you'll probably find your hotel is in walking distance. Though there are taxis at the port and the main bus terminus is located at the end of the ferry port's pier.
Naxos is the biggest island in the Cyclades and has become very popular in recent years. It's famous for its large pristine beaches like Plaka beach. It's so long that even in the peak season, at some points, you may find only a handful of people. It's also famous for its agriculture and therefore its food. There's not much nightlife on this island but this is more than made up for the quality and number of tavernas.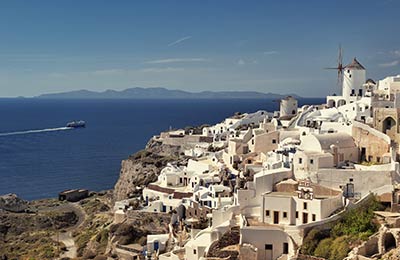 Island hopping in the Dodecanese
The second biggest island group in terms of passenger numbers are the Dodecanese. 'Dodeka' is the Greek word for twelve and here there are twelve large islands, and about 150 smaller ones. As many of the islands are close together, it's ideally suited for ferry hopping and you can also hop over to neighbouring Turkey for a day out.
Recommended Dodecanese island hopping route: Rhodes - Tilos - Symi
Ferry travel times:
Rhodes to Tilos:
Conventional ferry: 2hrs
Tilos to Symi:
Conventional ferry:1hr 40 min (one sailing per week)
Symi to Rhodes:
Fast ferry: 50 min
Conventional Ferry: 1hr 25 min
Ferry travel normally possible all year but the Tilos to Symi route and fast ferries may only be available in the summer.
---
Rhodes
Rhodes is the largest of the Dodecanese islands and it has one of the biggest airports in Greece. With regular flights from the UK from carriers like Ryanair, EasyJet and Norwegian, it's an ideal place to start or finish a tour of the Dodecanese islands.
There are four ports in Rhodes. Kolana port is the port for ferries to the other Dodecanese islands and is in the city of Rhodes in the old town. Kameiros Port on the west of the Island also serves the island of Halki. There are also other ports serving cruise ships and international routes to Turkey.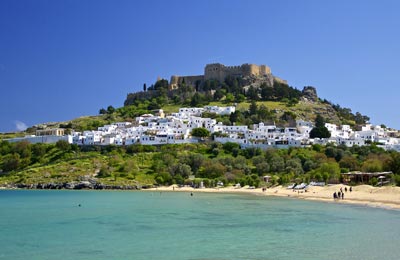 Taxis are available from Kolana port as are busses and you can buy tickets on the bus or before boarding. If there's not a crazy rush to get on, then it sometimes is worth waiting until close to your departure time as the air-conditioning might only be switched on last minute.
Rhodes may be famous for Faliraki and the club 18-30 crowd but this island, a bit like Crete, really does have it all. You'll find miles of pristine sandy beaches in the exterior, mountains and forests in the interior and of course castles and churches galore. And there's also one of the finest medieval towns in the Mediterranean.
Tilos
Livadia is the island's port and the largest settlement - but not the capital. However, it is still very much a village. Most islands started off with their capitals in the interior to protect themselves against pirates - but with the advent of tourism, this changed. Tilos stayed the same. In fact, so little has Tilos changed, that nowadays the entire island is recognised as an ecological park. Tilos is a walker's paradise, with verdant hills dotted with flowers and wild herbs.
Getting off the ferry, you'll find there is no port as such. Instead you're left right in the centre of the village of Livadia. So small and scenic is the village, in fact, that the visiting ferries can often look like an anachronism - a Greek word meaning against (ana) time (chrono).
To get around, there's only one bus route going to some of the main sites and you can also hire a car, moped or bike.
Symi
The port and main town share the name of the island but is divided into two halves. The most beautiful half - Gialós, is where the ferry port is. Here, two and three storey stone houses crowd the harbour - reminiscent of a Venetian village. Each red-tiled house vibrantly painted in shades of indigo, ochre and terracotta. The vista is dominated by the old clock tower. There are few ferry approaches in Greece as stunning as the approach to the island of Symi.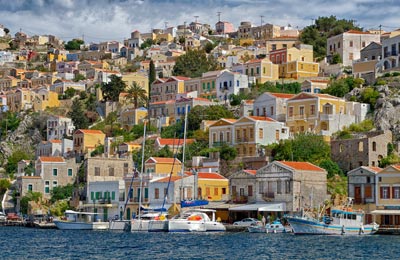 To get around, there are a few buses and a few taxis which you can find near the harbour. There are also water taxis going to the nearby beaches to save you the trouble of taking a bus or walking.
There is also another port on the other side of the island - Panormitis - the location of the island's famous monastery which is visited by people from all over the world. And from here there are ferries to and from Symi town - the chora.
Island hopping in the Sporades
Despite a modicum of recent fame, these islands remain off the beaten track. There are perhaps no greener group of islands in Greece. If you are used to the often desert-like landscapes of the Cyclades, you may be in for a shock when visiting the Sporades. These 24 islands lie in the northwest Aegean. Only four of the islands remain populated all year round; Skiathos, Skopelos, Alonissos and Skyros.
Recommended Sporades island hopping route: Skiathos - Skopelos - Alonisos
---
Ferry travel times:
Skiathos to Glossa (Loutraki):
20 minutes
Skiathos to Skopelos town:
One hour
Skopelos town to Alonissos:
25 minutes
Alonissos to Skiathos:
1hr 20 min
Ferry travel normally possible all year.
---
Skiathos
Skiathos has an airport with regular connections from Athens and in the summer there are also direct charter flights from some smaller carriers like Thomson Airways. There are also regular ferries, year round, from the nearby port town of Volos. The crossing takes approximately 1 hour and 40 minutes. It's the perfect spot to start a tour of the Sporades.
The port of Skiathos is in Skiathos town and close to the picturesque old port area. There are busses and taxis available, but if you want to explore the unspoilt northern side of the island then you're better off hiring a car - ideally a 4*4.
The island of Skiathos itself will certainly not disappoint if cosy tavernas, lush green mountains and pristine beaches are what you are after. If it's clubbing nightlife you want though, the Sporades are possibly not for you.
Skopelos
The next destination on your itinerary should be Skopelos. Here there are actually two main ports. The closest port to Skiathos is on the west side of the island - the port of Loutraki. This port may also be called Glossa - after the nearest town. The second port is the main port and is in the town of Skopelos - the Chora. The ferry from Skiathos to Loutraki takes just twenty minutes but you'll need an hour to get to Skopeolos town as the ferry goes all the way around the island.
Many people may know about Skopelos from the movie 'Mamma Mia' which used Skopelos as a filming location. If you've seen the film, you'll know all that Skopelos can offer - pristine beaches, of course, but most importantly - a slice of unspoiled Greece. Despite the popularity of the film, the island remains unspoilt and even in the high season you won't find as many tourists as compared to some other islands.
Alonissos
Alonissos is the most remote of the Sporades islands and is home to the National Marine Park of Alonissos and Northern Sporades - the largest marine protected area in Europe. In fact, the marine park encompasses all of Alonissos island itself and its surrounding un-inhabited islands as well as the sea.
The main port of Alonnisos is called Patitiri and it's also the largest village on the island. Boat trips to some neighbouring islands are permitted from Patitiri if you really want remoteness. From Patitiri, in the summer, there are busses to some of the main spots on the island. And of course taxis and car hire are available all year.
There are not too many holiday destinations situated in marine parks - let alone the largest in Europe, and so you can imagine how unspoilt a region this is. From Alonissos, it's only an hour back by ferry to Skiathos to take your plane or ferry back to the mainland.
A note on taking a taxi to or from the port
While not strictly allowed by law, many taxi drivers will let passengers share a ride and charge each passenger separately for the same journey. Therefore, if you want to share the fare with other people going to the same place, make sure you talk to your fellow passengers before getting in and tell your taxi driver you are all together before you set off. This could lead to quite a saving.
Greek islands in the movies
Greek islands have features in many films. Before you decide where you want to go, it might be worth watching a few for some inspiration. Here are some famous examples with Greek island locations:
Mamma Mia (2008)
Main location: Skopelos in the Dodecanese islands. Other locations: Skiathos and the Pelion coast.
The Sisterhood of the Traveling Pants (2005) & Part 2 (2008)
Main Greek location: Santorini in the Cyclades islands.
Captain Corelli's Mandolin (2001)
Main location: Kefalonia in the Ionian islands.
Shirley Valentine (1989)
Main location: Mykonos in the Cyclades islands.
The Big Blue (1989)
Main location: Alonissos in the Sporades islands.
High Season (1987)
Main location: Rhodes in the Dodecanese islands.
Zorba the Greek (1964)
Main location: Crete.