How to book your Thailand ferry
Booking a ferry to or from Thailand couldn't be easier with AFerry. You can either use the booking form at the top left of the page.
---
About Thailand
Thailand is country in Southeast Asia known for great food, a tropical climate and a truly fascinating culture. Travellers from all over the world flock to Thailand to experience all of this and the many more attractions Thailand has.
Thailand is the most popular Southeast Asian tourist destination for good reason. It has everything you could possibly want in a destination; unspoilt jungle, crystal clear warm waters, exotic food, and all modern amenities you need.
---
Thailand Travel Guide
Thailand attracts visitors from all walks of life. While well known and popular amongst backpackers and travellers, Thailand also boasts some of the most luxurious hotels in the world.
From the bright lights and bustling nightlife of Bangkok, to the jungles of Khao Sok National Park, you can quickly find yourself feeling like you have travelled across several countries. Thailand is a truly unique destination with a diverse range of things to see and do.
Eating street food is not only one of the best ways to keep costs down, but one of the best experiences you can have in Thailand
---
Travelling in Thailand
Due to the shape of mainland Thailand, and that some of the best sights are on the smaller islands, ferry travel is a popular way to get around. Ferry services are available, all of which can be booked right here on AFerry. You'll get spectacular views of the Thai coastline and the beautifully clear waters.
Bus services are very cheap in Thailand and are great for travelling shorter distances. If going further, train services are also inexpensive and can be taken overnight allowing you to rest and catch up on sleep while you travel.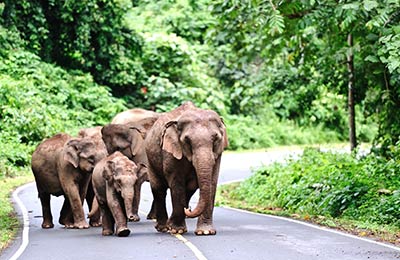 ---
Things to see and do in Thailand
While it's very easy to spend lots of money on luxurious hotels, restaurants and bars in Thailand, it's also just as easy to have an amazing, and in some ways better, experience on a shoestring budget.
Eating street food is not only one of the best ways to keep costs down, but one of the best experiences you can have in Thailand. The best of Thailand's cuisine is in the food stalls which are packed with people each day, while the cost is a fraction of what you would pay at a restaurant.
If the street food inspires you, why not learn to cook it for yourself? You'll find many places in Thailand where you can be taught, particularly in Chiang Mai and Bangkok.
Wildlife is a huge part of Thailand's draw for many people. On land, you can experience the jungle, which is worth dedicating a few days to in order to really get the most out of it. Or in the ocean, go scuba diving in the iconic crystal clear waters. Whichever you do (we recommend both!), you'll see majestic wildlife in a natural habitat which is an unforgettable experience.
Thailand is world-famous for the Full Moon Party on Haat Rin, on the island of Koh Phangan. Joining 20,000 people for a beach party lasting the night is something you won't find in many places. While tourists make up a large portion of the attendance, the Full Moon Party is a strong part of Thailand's culture.
AFerry.co.uk offers the best way to find the cheapest ferry routes to Thailand with its easy to use booking form. Begin your holiday on a ferry and start relaxing straight away!