Shortest Crossings from England to France
Dover is the most popular ferry port for UK ferry travellers, with connections to Calais and Dunkirk taking 90 minutes and 2 hours respectively. Dover is conveniently accessed via the M20, while Calais and Dunkirk are well placed for trips to Paris and Northern Europe.
Folkestone is not a ferry port, but is included in our search results to help you. With a crossing time of just 35 minutes it's the quickest way to get across the channel and into Calais.
Which companies go to France?
Ports in France
France Travel Guide
Discover fantastic shopping, a rich history, changing landscapes and amazing food and wine. France gave the world champagne, over 365 kinds of cheese, and some of the world's most famous artists.
France is the largest country in Europe, offering a spectacular variety of scenery, from the mountain ranges of the Alps and Pyrenees to the attractive river valleys of the Loire, Rhone and Dordogne and the flatter countryside in Normandy and on the Atlantic coast. The country has some 1,800 miles of coastlines to enjoy.
The weather changes frequently throughout the year as the Atlantic influences the climate of the western coastal areas from the Loire to the Basque region. Expect a mild climate and frequent rain; however, summers can be very hot and sunny. Visit the south of France, where you can enjoy the warm Mediterranean climate throughout the whole Riviera. Alternatively head inland to the French slopes of the Pyrenees or the Alps for some of the world's best skiing throughout the winter.
There is no denying that France is a land of great contrasts, offering an endless choice of enticing places to visit, a rich diversity of landscapes, cuisines, climates and people, with an exceptional cultural heritage.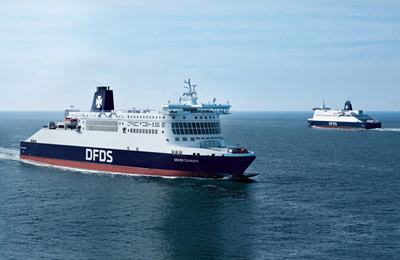 ---
Travel in France
Take your family and a car across the channel to France and explore the country via the excellent network of roads. Driving in Europe is far easier than you might think if it's your first time. Remember traffic drives on the right. Motorways (autoroutes) bear the prefix 'A' and some of these will be toll roads (autoroutes à péage). National roads (routes nationales) are marked 'N' while minor roads are classed as 'D' roads.
There are certain laws you need to know about before driving in France:
If your sat-nav is able to detect speed camera locations, leave it at home. If you are found to be driving with one of these in your car, regardless of whether it's turned on or not, you can be fined 1500 euros.
All vehicles are legally obliged to carry a breathalyser kit. It is strongly advised that you carry several of these. Use one before driving if you have consumed alcohol, and the others as backup if you are checked. Breathalyser kits can be bought at the port.
The drink drive limit in France is 50mg of alcohol in 100ml of blood. Bear in mind this is significantly lower than the UK limit of 80mg per 100ml of blood. Our best advice is not to drink alcohol at all if you are driving.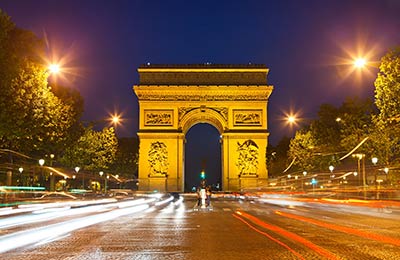 ---
Things to see
The capital of France, Paris, and its famous Eiffel Tower, make a popular destination for holidays or weekend breaks. Why not combine a stay in Paris with a visit to Disneyland. Normandy and Brittany are within close reach of regular ferry crossings, as are all the hyper-markets around Calais where you can make big savings on food, drinks and cigarettes. Many people head to the Normandy coast either for its lively night life or the Norman countryside, with its cool, wooded valleys and its beech and pine forests that offer a haven of peace and tranquillity.
You may also discover the french Atlantic Coast & Cognac Country region, Poitou-Charentes, with the beautiful city of La Rochelle, the white island Ile de Ré, the Oléron island and the old city of Poitiers. A nice region for family holidays and short breaks.
A long, rugged coastline, vast bays of glorious beaches, and a secretive, almost mystical interior is the lasting impression of Brittany. This most westward region of France, where the Bretons speak their ancient language and carry on age-old traditions, always seems a little out of step with mainstream France, but the many attractions welcome visitors in their thousands year after year. Visit France's numerous cathedrals, including Reims, where Clovis (the first French king) was baptised, Chartres and Tours.