On board Grandi Navi Veloci ferries
Grandi Navi Veloci operates an impressive fleet of conventional ferries and others that combine features normally found on cruise-ships. You will be able to enjoy a full range of facilities on each ferry meaning your journey will be nothing but pleasurable from the moment you step on board to your arrival at port.
You can choose from a range of Grandi Navi Veloci cabins including disabled cabins. All come with en suite facilities. On the larger vessels they also offer suites with a TV, telephone, radio, air conditioning and mini-bar.
On board, a Grandi Navi Veloci you will also find a la carte and self-service restaurants, a snack bar shops and children's play areas. Some ferries also feature a cinema, disco, swimming pool and even a gym if you want to tone up before hitting the beach at your destination.
---
Whether you use the Grandi Navi Veloci Palermo Tunis ferry, the Grandi Navi Veloci Palermo Malta service or any other route with this well known and reputable ferry company, you are certain to have a pleasant journey. Book your Grandi Navi ferry easily and simply with AFerry.
Pet Booking Information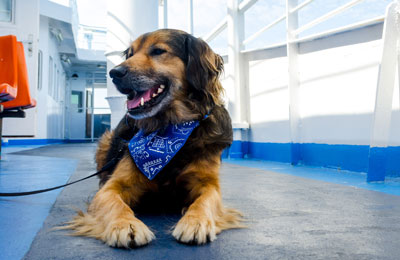 You can book your cat or dog on board a Grandi Navi ferry with AFerry. Just choose your route and then select the number of cats or dogs you are sailing with.
Grandi Navi provide on board accomodation for pets on their ships where pets must reside. This does not apply to guide dogs. Dogs will also receive a special welcome kit when they arrive on board.
Note that to take your pet to and from the UK to mainland Europe and Ireland you will need a pet passport. To find out more about pet passports and travelling with your pet see our pet travel guide.