On board Grimaldi Lines ferries
Grimaldi Lines fleet consist of six large and spacious modern ferries that combine the features of traditional ferries and cruise ships meaning they they provide a wide range of facilities second to none. On board the Cruise Roma/Barcelona the Zeus Palace, the Catania, the Florencia, the Ikarus Palace and the Sorrento you will find a range of comfortable cabins to chose from some of which have en-suite facilities.
You will also find numerous lounges with comfortable seating, restaurants and bars and children's play areas. Many of the ferries also operate swimming pools in the summer months and on some you can even treat yourself to a luxury spa treatment.
---
Whether you book the Grimaldi Lines Palermo Tunis route, the Grimaldi Lines Salerno Palermo ferry, the Grimaldi Lines Tanger Med Livorno service or any other route from this famous Italian ferry company you are certain to have a relaxing and enjoyable journey. Book your Grimaldi Lines ferry easily and securely with AFerry.
Pet Booking Information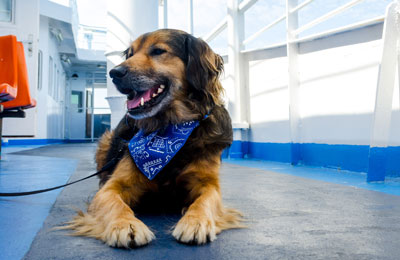 You can book your cat or dog on board a Grimaldi Lines ferry with AFerry. Just choose your route and then select the number of cats or dogs you are sailing with.
Grimaldi Lines provide on board kennels for pets. Please note that all dogs must wear a muzzle.
Note that to take your pet to and from the UK to mainland Europe and Ireland you will need a pet passport. To find out more about pet passports and travelling with your pet see our pet travel guide.