Ferry to Guernsey
Guernsey Ferries - Prices from £32
You can take a ferry to Guernsey from the Channel Islands, England and France. Domestic services in the Channel Islands are available to Guernsey from Jersey and Sark. Ferries from France sail from Carteret, Dielette, Granville and St Malo to Guernsey. From the UK ferries to Guernsey sail from Poole and Portsmouth.
Sailing Durations
There are several crossings weekly which can be viewed in more detail below. Sailing durations for Poole-Guernsey are from 3 hours. The average crossing time for Jersey-Guernsey is from 1 hour and up to 7 hours on the Portsmouth-Guernsey service.
We compare so you get the best price
When you do a search for a ferry to Guernsey, we will also compare similar routes. Because there are 3 ferry companies operating in and out of Guernsey, comparing can be very useful to help you find the best sailing time and price. When you search for a ferry to Guernsey, we will always show a range of times just in case it's cheaper earlier or later than the time you selected.
Onboard your ferry to Guernsey
Ferries to Guernsey are operated by Condor Ferries, Isle of Sark Shipping and Manche Iles Express and are known for their comfort and high levels of service. You will feel like your holiday has begun the moment you step on board. Travelling to Guernsey will be easy and hassle free.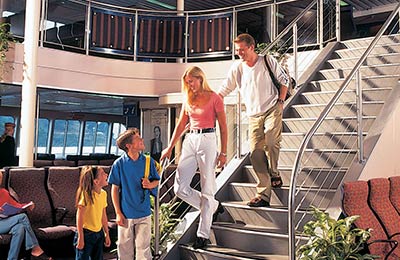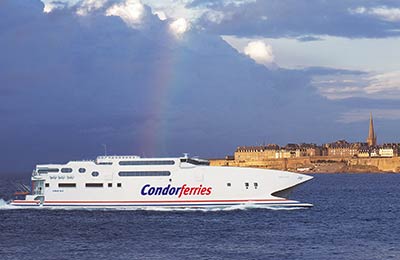 There is a great choice of seating when you travel with Condor Ferries, you are guaranteed a comfortable pre-assigned seat, reclining seats are available too. Plus there are options to upgrade to Ocean Plus or Club seats, with panoramic views and a private bar serving snacks and drinks.
Condor's Commodore Clipper sails between the UK, Guernsey and Jersey and you can choose from 2, 3 and 4 berth cabins with either en suite or shared bathroom facilities. Upgrade to a superior cabin with a large forward facing window, TV/DVD player, complimentaray fruit and water as an extra treat.
Onboard Accommodation with Condor Ferries
Ocean Club Seat
Club Class service offers stylish yet affordable comfort for the discerning traveller.
Children of all ages are welcome in the Ocean Club lounge however Condor Ferries charge children at the same price as adults. For a supplement customers benefit from:
A private lounge with comfortable reclining seats
Tables for work or relaxation
Steward service (fast ferries only)
Complimentary newspapers
A selection of hot drinks throughout your journey
If travelling on the Condor Liberation (normally operates from Poole): At seat power supply for the entire journey.
Superior Cabin - Up to 4 people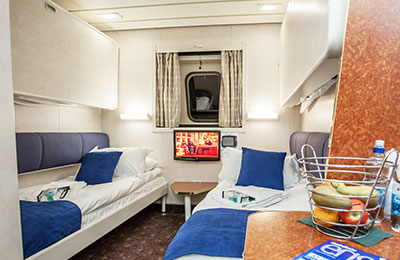 A Superior Cabin adds a touch of luxury on daytime and overnight crossings. These cabins are at the front of the ship and accommodate up to four people.
Facilities include:
Beds with duvets and linen provided
Complimentary fruit and water
Ensuite toilet, washbasin and shower
Towels provided
Larger window than a standard outside cabin
On overnight crossings, vouchers for complimentary breakfast onboard
Inside Cabin - 3 Person Occupancy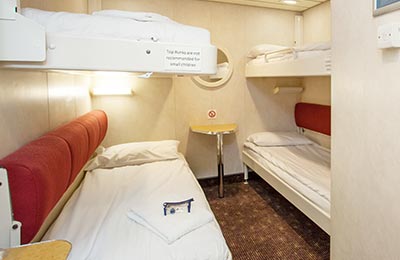 Outside and inside cabins are available to book. The cabins range from 2 to 4 berth capacity, all offering ensuite facilities.
Onboard cabins are modern, comfortable and tastefully decorated. Passengers travelling overnight in a cabin are entitled to a complimentary breakfast.
Reviews
Jersey to Guernsey by sea.

Having spent a week in Jersey, we needed to get to Guernsey to continue our holiday. Having compared the airfare with the ferry price it was a no brainer. The ferry was quick and with the added bonus of being able to walk around, get some food and do some shopping.

Review by DAWN SWEPSTONE

The staff were so helpful and it was a very pleasant experience

Review by Amanda Burdett

Great shirt crossing. Comfortable, light meal, very enjoyable. Good duty free shop for a small vessel.

Review by PAMELA D

Booking was easy!! Got some cashback through Quidco!!

Good service - thank you!

Review by Anon

Condor seam to have trouble with the ferry on the fast service on a regular bases.it is about time this was sorted out.nothing can be done about delays due to weather and wind,but this ferry all ways seams to be breaking down.

Review by Disappointed traveler