Harwich Ferry
Coronavirus ferry travel advice
Ferries to and from Harwich sail to the Hook of Holland the most direct route to the Netherlands and Germany from the south of England. Currently, the ferry company Stena Line operate this ferry. There are day and night sailings with up to 2 crossings per day.
Sailing Durations
The crossing time is from 6 hours and 30 minutes depending on the sailing you choose. There are up to 2 crossings daily on this route.
We compare so you get the best price
When you do a search for Harwich to Hook of Holland ferries, we will also do a ferry comparison with similar routes. For instance we also compare ferries from Hull-Rotterdam Europoort, Hull-Zeebrugge and Newcastle- Amsterdam IJmuiden. And of course we show you a huge variety of times and prices so you can get our best deal.
Latest prices
Route
Price
Fare Details
Hook of Holland - Harwich
(Stena Line)

Booked: Monday, 19 October 2020
Travel: Wednesday, 28 October 2020 - Sunday, 1 November 2020
Car + 1
Onboard your Harwich Ferry
You will find all Stena Line ferries offer the highest standards of comfort and all the on board facilities you could possibly dream of. The onboard services provide you with entertainment during your ferry crossing on whether you're travelling by day or travelling by night. The Stena Line Superferries which sail this route offer two restaurants, three bars, a coffee bar an onboard shop, an internet room and even a cinema.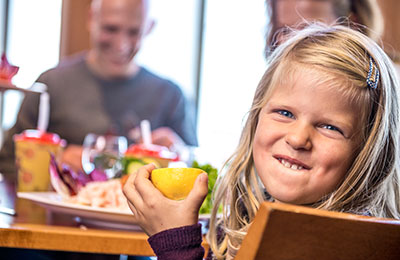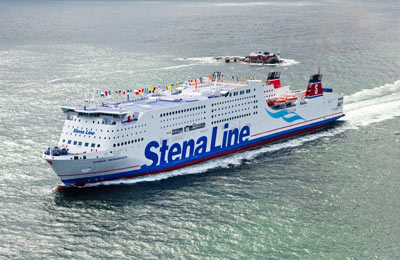 You can choose from several different cabin types to suit your needs or choose a luxury one if you want to treat yourself.
Onboard Stena Line Accommodation
2 Berth Inside Cabin - Bunk Beds
These standard cabins located on Deck 8, 9 and 10, without a window (inside), can accommodate 1 or 2 people. Inside you'll find:
Facilities include:
2 DUX single beds
An ensuite bathroom with shower, toilet, sink and towels
Flat screen television
4 berth outside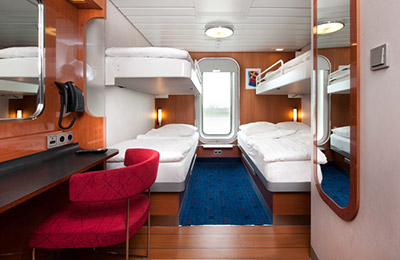 This Standard Class cabin with a window (outside) & wonderful sea views is suitable for 1 to 4 people. Inside you'll find:
4 beds. Normally bunk beds or wall mounted.
Ensuite bathroom with a shower & toilet
Exact cabin facilities may vary depending on the ship or route you sail on. Some cabins may also feature:
Television. Gothenburg, Belfast and Harwich routes.
Desk or dressing table. Harwich, Belfast and Rosslare routes.
Sofa, telephone for internal use, open wardrobe. Harwich routes.
Luxury DUX mattresses. Gothenburg and Belfast routes.
2 berth captains class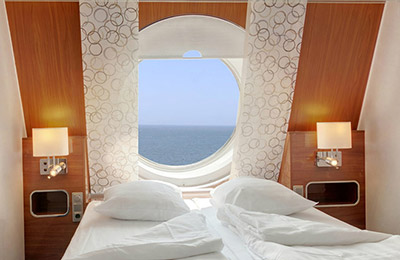 This Captain Class cabin with a window (outside) & fantastic sea views is suitable for 1 or 2 people. Inside you'll find:
A double bed, or two connected singles on Oslo routes
Ensuite bathroom with a shower & toilet
A flat screen TV
Window
Exact cabin facilities may vary depending on the ship or route you sail on. Some cabins may also feature:
Free internet access, seating area, fruit basket and trouser press. Oslo routes.
Minibar with sparkling wine, mineral water, beer and snacks. Oslo routes.
Telephone for internal use and open wardrobe. Harwich routes.
Tea & coffee making facilities. Harwich, Dublin and Rosslare routes.
Complimentary minibar with sparkling wine, mineral water, orange juice, beer, red wine, crisps & peanuts. Harwich routes.
Mini Fridge with bottled mineral water. Rosslare and Dublin routes
A desk or dressing table. Harwich, Dublin and Rosslare routes
Port Addresses
DFDS
Harwich International Port, Parkeston, Harwich, Essex, CO12 4SR, United Kingdom
Stena Line
Harwich International Port, Parkeston, Harwich, Essex, CO12 4SR, United Kingdom
Reviews
13 Jan 2020

Christmas Visit

Efficient comfortable crossing.

Review by BRENT ANDERSON

Very good service.

Review by TERENCE HUMPHREYS

02 Oct 2019

Smooth Crossing

A cabin on deck 10 was especially welcome and was not far from the facilities of deck 9. A crossing without incident and quite relaxing.

Review by CHRISTINE SADD

Everything functioned as hoped. Checin was fine, we sailed and arrived at time. Room was ready and clean. Beds good..... we did not use other facilities or catering on board. Must say that facilities in Harwich is not of high standard. Onboard driving in Holland was possible earlier than expected which was very good.

Review by HANS

05 Sep 2019

Comfortable Crossings

I have used this route often over many years and the experience is consistently excellent. Easy access, rooms keys given at the gate, rooms clean, fun films, and the staff are always friendly. A great way to break my long journeys.

Review by ROGER HARE