Heysham Ferry
Coronavirus ferry travel advice
Ferries to and from Heysham sail to Douglas on the Isle of Man. Currently, the Isle of Man Steam Packet operate this ferry service.
Sailing Durations
The crossing time is from 3 hours and 45 minutes (Ben-my-Chree) depending on tidal and weather conditions. There are up to 2 crossings daily.
We compare so you get the best price
When you search for a ferry to Heysham, we will always show a range of times just in case it's cheaper earlier or later than the time you select. We'll also show you results for similar ports like Liverpool-Isle of Man and Liverpool Birkenhead-Isle of Man to help you find the best times and prices to suit your plans.
Onboard your Heysham ferry with the Isle of Man Steam Packet
You will find all Isle of Man Steam Packet ferries offer the highest standards of comfort and great on board facilities. When you travel with Isle of Man Steam Packet, you will find the Ocean Avenue shop selling a wide variety of products including newspapers and magazines. If you fancy a bite to eat or a quick drink there are a choice of bars and restaurants onboard. Steam Packet chefs and staff use Fairtrade and local produce from the Isle of Man meaning your food is not only delicious but kind on the environment too.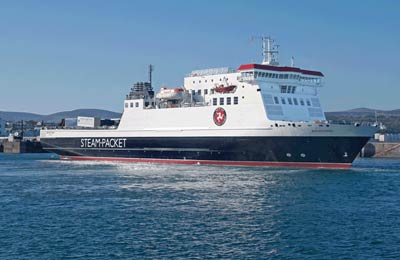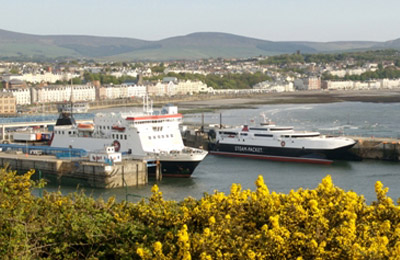 Onboard if you are thinking of having a few hours sleep or just want a little privacy, book a cabin on the Ben-MyChree service. There are 4 berth en-suite cabins with TV and complimentary tea and coffee making facilities. You can avail of the in cabin service and have your meals served in your cabin too. Premium Cabins are available if you want more comfort than standard cabins, and include a DVD player and DVDs, a fridge with cold drinks, and there are also snacks, newspapers and magazines included.
Onboard Isle of Man Steam Packet Accommodation
Niarbyl Lounge Seat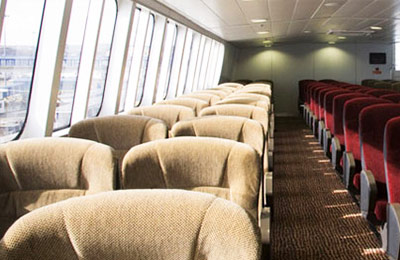 These seats are located in the "Nairbyl" lounge. This lounge is the perfect place for a quiet and comfortable journey. The seats are very comfortable.
First Class Seat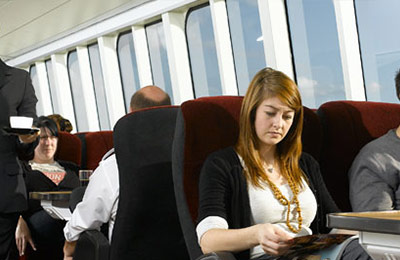 The Premium Lounge offers additional facilities and services to enhance your travel experience:
Exclusive lounge with comfortable seating
Complimentary non-alcoholic beverages served at your seat
Complimentary newspapers and selection of magazines
Complimentary WiFi
Access to laptop and mobile phone charging points.
Pillows and blankets available on request
On request the onboard service team are also happy to assist with any purchases you may wish to make from onboard Café or Bar outlets
Please note: On fast ferry services the Premium Lounge may only be used by passengers aged 8 or over.
4 Berth Cabin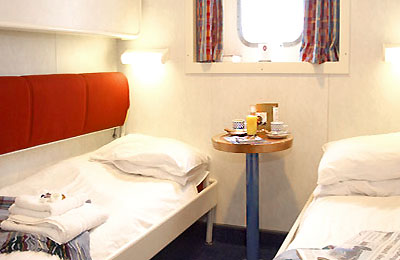 This cabin accommodates up to four people and is ideal if you wish to get a few hours sleep or just want some privacy.
Facilities:
Beds with duvet and bed linen provided
Ensuite WC and shower with towels provided
Television
Tea and coffee making facilities
Complimentary WiFi
In-cabin service for meals available
Port Addresses
Isle of Man Steam Packet
Passenger Terminal, South Quay, Heysham, Lancashire, LA3 2XE, United Kingdom
Reviews
27 May 2019

Heysham to doulas and return

Overall a good experience. Limited refreshments available on both journeys Holding area at Douglas was cold and smelt damp.

Review by STEPHEN HALLMARK

13 Feb 2019

Trip to visit family

Easy disembarkment No problems.

Review by IAN CAWTHRAY

13 Jan 2019

New Year Trip

Pleasant voyage both on the outward and inward journey. Easy and fast check in.

Review by Anon

12 Sep 2018

Good Breakfast.

I enjoyed my good breakfast and good journey from Isle of Man to Heysham. Thank you so much for safe journey. I will come again in the future. Thank you.

Review by ANDREW EDWARDS

We were in Isle of Man for a wedding, what a beautiful place. the ferry transport was perfect, only thing we thought let it down slightly was the price, what a shame, we would love to go back for a return visit, but to be honest, its to expensive to get there.

Review by Brian