On board LangelandsFærgen (Langelandstrafikken) ferries
LangelandsFærgen currently operates two ships between the ports of Spodsbjerg and Tårs, the M/V Frigg Sydfyenand the M/V Odin Sydfyen. Both are modern ferries that meet the highest standards of comfort and safety. Because of the short duration of the crossing the ferries only have basic amenities on board but you will find comfortable seating and attentive staff willing to help you in any way possible.
Book your Langeland to Lolland ferry simply and securely with AFerry and rest assured that you got a great deal!
Pet Booking Information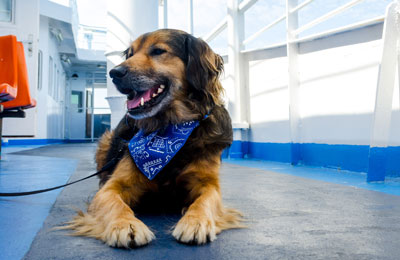 You can book your cat or dog on board a LangelandsFærgen ferry with AFerry. Just choose your route and then select the number of cats or dogs you are sailing with.
Pets on LangelandsFærgen must travel in the kennels provided. LangelandsFærgen recommend you make your pet as comfortable as possible by providing absorbent bedding and familiar toys.
Note that to take your pet to and from the UK to mainland Europe and Ireland you will need a pet passport. To find out more about pet passports and travelling with your pet see our pet travel guide.