Larne to Cairnryan Ferry
Larne to Cairnryan Ferry with P&O Ferries - Prices from £126
Larne to Cairnryan - Cheapest Prices
For the next 7 days
Based on bookings travelling this week with a car.
Larne to Cairnryan Special Offers
Kids go Free on the Cairnryan-Larne route with P&O Ferries.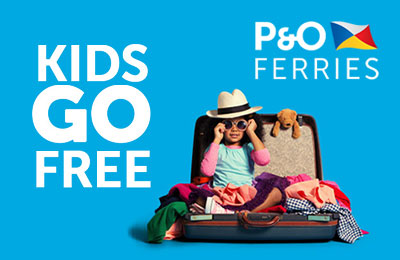 Book now. Travel until 05/01/2020.
Sail with P&O on the Cairnryan-Larne route this summer and the kids go free on single & return journeys. Travel can start in either port. Must be booked 2 days in advance. Includes cars, high cars and motorhomes.
The Larne to Cairnryan ferry connects Northern Ireland to Scotland and is operated by P&O Ferries. As well as comparing prices and times for Larne to Cairnryan, we will also show you results for Belfast to Cairnryan and Belfast to Liverpool Birkenhead to help you get from Northern Ireland to Scotland at the best time, for the best price.
Book a Larne to Cairnryan ferry today with AFerry. Just use the form above and choose the route that you want. If nothing appears automatically, start typing Larne. You can also type the country or even the name of the ferry company you are interested in. When you have the route that you want, choose single or return and all the other options you want.
How we compare ferries, prices and times for Larne to Cairnryan
If there is more than one ferry company operating on the Larne Cairnryan route we will show you all the ferry companies, to make sure you get our best price. We'll also show you any routes similar to Larne to Cairnryan so you have the complete picture when making your booking. And of course you'll also see a range of times just in case it's a bit cheaper earlier or later than your preferred booking time.
How you get your ticket and how you can make changes if you need to
Once you've chosen your perfect sailing and have made your booking we'll email you your booking confirmation for your Larne to Cairnryan ferry. The majority of tickets have instant confirmation.
We will also email you details about how you can contact us using our messaging service, as well as details about how you can change your ticket. Most of the time you can do this by yourself. The vast majority of our customers give us a review of four or five stars showing that their very happy with our service and communication.
---
Below you can see the ferry company or companies that sail on the Larne to Cairnryan route and the journey times. You might also see some recent prices our customers have found. The best way to find a cheap Larne to Cairnryan ferry though is to use the form above today to see all of our possible choices.
Getting the best price for your Larne to Cairnryan ferry
With AFerry we always give you our best prices for ferries from Larne to Cairnryan. No matter which page you book from we always include all our special offers. And there is no need to look for a discount code. If we have an offer available, your ferry price will include the reduction or offer. There's no need to look at other websites.
If you're not sure if the Larne to Cairnryan route is right for you or you can't decide between ferry companies, if there is more than one, you might also find it useful to read any reviews we have available. We ask all our customers to send us reviews for Larne to Cairnryan ferries. Remember though, that the earlier you book, the cheaper prices normally are. So don't spend too long deciding! Larne to Cairnryan is a popular route, so we advise you to book as soon as possible.
About Larne
Larne is the ideal base from which to explore the beautiful countryside of County Antrim and the famous Causeway Coastal Route. The famous Antrim Coast Road with its 36 miles of spectacular limestone coastline actually starts from Larne. Ferries from Larne to go Cairnryan and Troon in Scotland and can be booked through AFerry
Larne is both the most modern and the most ancient of places. The name of the town is believed to have derived from a prince called Lathar, son of an ancient Irish king, who was granted the lands by his father. The area came to be called Lathar-na, meaning the lands of Lathar, and this has been anglicized to Larne.
Larne is a busy town that offers a wide range of shops and several excellent parks and recreation facilities. In Larne you can enjoy numerous outdoor activities, including golf, cycling and bird watching. Carnfunnock Country Park has combined attractions and entertainment with the splendor of its natural scenery.
The cultural centre in Larne's Borough is the Carnegie Library which consists of the Larne Museum, John Clifford Gallery, Larne Art Club, Larne Drama Circle and Larne & District Historical Society. In Larne Borough there are many towns and villages worth visiting such as Ballycarry, Cairncastle and Glynn.
About Cairnryan
Cairnryan port has been of vital importance in maritime history. Being closer by sea to Northern Ireland than Stranraer, the attractions of Cairnryan as a ferry port led to the building by P&O ferries of a roll-on roll-off terminus here in the 1970s, offering a shorter ferry crossing to Larne ferry port.
Special Offers - Terms and Conditions
Kids go Free on the Cairnryan-Larne route with P&O Ferries.
Kids Go Free offer will apply for single and return journeys of any duration on the Larne/Cairnryan Route. Excluding Liverpool/Dublin Route. Children aged 15 years and under travel free. Excludes Vehicles designed for commercial use, vans, bicycles foot passengers and bicycles. Excludes day trips. MUST BE Booked at least 2 days before travel Subject to restricted space, sailings and times - offer can be withdrawn at any time
Reviews
Nice smooth crossing, but at 2 hours duration, sometime as Do ergo Dunkirk, yet around 3 times the price.

Review by DOUGLAS BROOK

Enjoyed the experience, my first, much easier than I expected. I may become a regular but it is more expensive than air travel.

Review by BERNADETTE NEWTON-COX

All good

Review by MARTIN MCMULLAN

booking trip was easy no problems and cheap

Review by HUGH CAMERON

The customer service and everything couldn't have been better

Review by GERALD MC INTYRE