Liverpool Birkenhead Ferries
Liverpool Birkenhead Ferries - Prices from £295
Book a ferry to Liverpool Birkenhead with AFerry. Ferries to Liverpool Birkenhead, in England, are available from Northern Ireland and the Isle of Man. You can take a ferry to Liverpool Birkenhead from Belfast and Douglas.
Liverpool Birkenhead Ferry Companies
Ferries to and from Liverpool Birkenhead are operated by Isle of Man Steam Packet and Stena Line. Because 2 ferry companies operate in and out of Liverpool Birkenhead, comparing can be very useful to help you find the best price at the best time for you. When you search for a ferry to Liverpool Birkenhead, we will always show a range of times just in case it's cheaper earlier or later than the time you select. We'll also show you results for similar ports like Cairnryan, Heysham and Liverpool to help you find the best times and prices to suit your plans.
Liverpool Birkenhead ferries with Isle of Man Steam Packet and Stena Line are known for their comfort and high levels of service, and you will feel like your holiday has begun the moment you step on board. Travelling to Liverpool Birkenhead will be easy and hassle free. Start by making your booking today, it's quick and easy.
Liverpool Birkenhead Routes
Liverpool Birkenhead Special Offers
Save 10% + FREE Flexi Upgrade with Stena Line!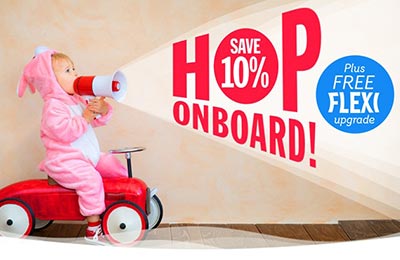 Book by 30/04/2019. Travel up to 05/01/2020.
Take your car and head off to Ireland or Britain and save 10% + we will give you a FREE Flexi upgrade, giving you the freedom to change your plans without amendment fees! Available on the Cairnryan-Belfast and Liverpool-Belfast routes. Valid for Economy & Flexi fares. Excludes freight, foot passengers and vans. Book 48 hours in advance.
About Liverpool Birkenhead
Liverpool Birkenhead is a town in England situated on the Wirral Peninsula along the bank of the River Mersey and opposite the city of Liverpool. Best known as a seaport town and for its shipbuilding in the 19th century. Well known landmarks include Birkenhead Park, its entrance is modelled on the Temple of Illysus in Athens and you can find a Roman boathouse, sandstone lodges and two lakes with an ornate bridge. Other places worth a visit are the Bidston Windmill which sits on a ridge behind the town, and Birkenhead Priory the oldest standing building on the Merseyside founded in 1150. On Woodside Ferry Terminal you can also visit a real German U-boat with interactive displays, telling the story of World War II German submarines. Visitors can view its amazing interior and discover its surprisingly well preserved artefacts including a rare Enigma machine.
Reviews
First class

Review by GERALD MC INTYRE

Long but comfortable crossing.

We were lucky that the boat was relatively quite and we were able to have seats in the cafe area. We appreciated the activities for the hound children it kept them distracted.

Review by Anon

Liverpool to belfast was great. Funny how when you travel back it all goes up the creek with out a paddle. Food and check in fine but plugs are European so company should put adapters in. I get told cabin has a TV, well that a lie as I have the massage also medical equipment and European plugs no help to even get a adaptor so medical needs not met. Lift not Woking the owners need to look and think before taken boats off of service.

Review by Anon

In the past we have been queued in the main waiting area facing the waiting room and toilets. This year we were immediately directed a long way down a two car width drive and were at gates near entrance to ferry. My husband is having treatment for prostrate cancer and needs regular bathroom visits. We queued for a long time in this wilderness with no facilities. He was in agony by the time we got on board the ferry. Hopefully he will be better next time we travel otherwise we will have to consider alternative crossing.

Review by MARGARET ROWE

the only thing we would ask ! is that the boat crew would take more care when strapping up our expensive motorbikes thanks

Review by peter bryson