On board Moby Lines ferries
Moby Lines ferries have a wide range of facilities on board. All Moby Lines ferries have children's play areas, games rooms and restaurants serving a range of delicious regional and international cuisine.. An excellent range of cabins and seating options are also available for your comfort.
On board some Moby Lines ferries, you will also find additional facilities such as a swimming pool, a la carte restaurant, pizzeria and bars.
---
About Moby Lines Ferries
Moby Lines operates an extensive fleet comprising conventional ferries, cruise ferries and fast cruise ferries. Since 1994, every Moby Lines ferry has been recognized with the Safety Management System which assures safety, quality and respect to the environment.
---
Whether you use the Moby Lines Piombo Portoferraio ferry service, Moby Lines Bastia Genoa ferries or the Moby Lines Olbia Civitavecchia ferry route, you are bound to have a relaxing and enjoyable journey with Moby Lines ferries.
Pet Booking Information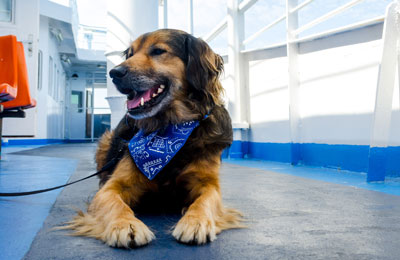 You can book your cat or dog on board a Moby Lines ferry with AFerry. Just choose your route and then select the number of cats or dogs you are sailing with.
Pets on Moby Lines are restricted to vehicle decks and external areas of the ferry. They are not allowed inside. Dogs must remain on a lead and be muzzled at all times.
Note that to take your pet to and from the UK to mainland Europe and Ireland you will need a pet passport. To find out more about pet passports and travelling with your pet see our pet travel guide.