On board P&O North Sea Ferries
P&O Ferries has a fleet of ships operating the Hull to Rotterdam and Hull to Zeebrugge routes. You will be amazed at the choice of on board facilities available on these ships. There are many different types of restaurants serving meals ranging from simple wholesome dishes to carvery and buffet style dining. You will also find spectacular panoramic lounges with bars, cinemas, live shows, a casino, foreign exchange facilities, plenty of great-value shopping and kids entertainment areas. Of course there is also comfortable seating and luxurious ensuite cabins.
---
About P&O North Sea Ferries
P&O Ferries have a number of cruise ships running routes on the North Sea, including the Pride of Hull, the Pride of York, the Pride of Rotterdam and the Pride of Brugge all of which carry over 1,000 passengers and feature a full range of on board facilities.
---
Whether you use the P&O North Sea Hull to Zeebrugge ferry route, the Hull to Rotterdam ferry, or any other P&O North Sea ferry you are bound to have a relaxing and enjoyable journey.
Pet Booking Information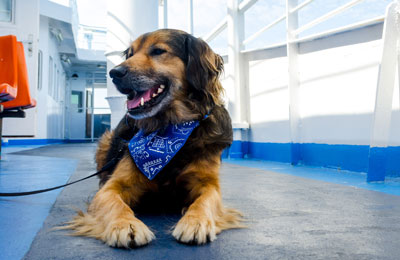 You can book book your cat or dog on board a P&O Ferries ferry with AFerry. Just choose your route and then select the number of cats or dogs you are sailing with.
Pets travelling between Dover and Calais must remain in the vehicle, foot passengers cannot travel with pets on this route. Between Hull and Rotterdam/Zeebrugge, pets must be left in the airconditioned kennels provided. Foot passengers must leave pets in lockable containers that are able to withstand being secured to the ferry.
Note that to take your pet to and from the UK to mainland Europe (including Ireland) you will need a pet passport. To find out more about pet passports and travelling with your pet see our pet travel guide.