On board with P&O Ferries
P&O currently has a fleet of 20 modern ships and take a lot of pride in offering a full range of services and features on board to ensure that you always have a relaxing and stress-free journey.
On board most P&O ferries, you will find a buffet restaurant and a fine dining experience. In addition, there are shops, and for the little nippers, the Kid's club, to keep them entertained during the journey.
For the ultimate in relaxation, there's also the Club Lounge. Here, in this peaceful lounge with stunning sea-views, you'll be able to enjoy a free glass of champagne or soft drink, served at your table. There's also a special Club Lounge menu for light snacks and drinks and complimentary newspapers.
P&O operates conventional ferries where, if the weather's nice, you can sit outside with a variety of seats. It's the perfect place to enjoy the summer sun as you hop over to your destination.
P&O also offer a wide range of cabins, from simple interior rooms, to exclusive suites with breath-taking ocean views. You can book cabins on their overnight sailings and even some day-time sailings. As you reach the end of your booking, you'll be presented with the option to book a cabin. Here we list all the available cabin types, their facilities and for each cabin, you'll also find a photo so you'll know exactly what you're booking.
You'll also find the option to book priority boarding so you don't have to wait around getting on or off the ferry.
---
P&O Pet Booking Information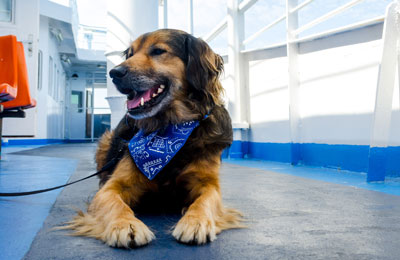 You can book your cat or dog on board a P&O Ferries ferry with AFerry. Just choose your route and then select the number of cats or dogs you are sailing with.
Pets travelling between Dover and Calais must remain in the vehicle, foot passengers cannot travel with pets on this route. Between Hull and Rotterdam/Zeebrugge, pets must be left in the airconditioned kennels provided. Foot passengers must leave pets in lockable containers that are able to withstand being secured to the ferry.
Note that to take your pet to and from the UK to mainland Europe (including Ireland) you will need a pet passport. To find out more about pet passports and travelling with your pet see our pet travel guide.