Poole to Cherbourg Ferry
Poole to Cherbourg Ferry with Brittany Ferries - Prices from £85
Poole to Cherbourg - Cheapest Prices
For the next 7 days
Based on bookings travelling this week with a car.
Poole to Cherbourg Special Offers
8 days in France from £99 pp for car + 2 people return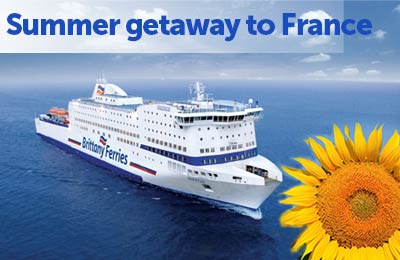 Book by 04/07/2019. Travel until 30/08/2019.
Sail with Brittany Ferries for 8 day return breaks from only £198 for car + 2 people, that's just £99 per person. Motorcycle and rider £99 return. Routes: Portsmouth to Caen, St Malo, Cherbourg and Le Havre. Poole to Cherbourg and Plymouth to Roscoff. Travel until 30 August 2019. Book by midnight 4 July 2019. Travel can commence in UK or France.
Poole Cherbourg ferries are operated by Brittany Ferries, running up to seven times per week. With a crossing time of just 4 hours and 15 minutes, it's Brittany Ferries' shortest sailing between England and France.
The ship serving the Poole Cherbourg ferry route is the Barfleur, which has numerous onboard facilities to help you relax and enjoy your trip. Dine in the self-service restaurant and get a taste of France before you dock, grab a drink in the bar, or grab souvenirs, gifts or holiday essentials in La Boutique. There's plenty for kids to do too, with a children's playroom and a video games room. Free WiFi access is available on deck 7, wherever you see the WiFi logo.
Both Poole and Cherbourg have excellent road links to make your journey as smooth as possible. Poole is easily accessed from Southern England and the West Country, while Cherbourg has modern road links to Paris and further south.
Below you will find upcoming timetables for Portsmouth Cherbourg, and approximate crossing times. If available, you will also see the cheapest prices our customers have found recently. If you see an offer you like, use the Get Price to book!
Getting the best price for your Poole to Cherbourg ferry
With AFerry we always give you our best prices for ferries from Poole to Cherbourg. No matter which page you book from we always include all our special offers. And there is no need to look for a discount code. If we have an offer available, your ferry price will include the reduction or offer. There's no need to look at other websites.
If you're not sure if the Poole to Cherbourg route is right for you or you can't decide between ferry companies, if there is more than one, you might also find it useful to read any reviews we have available. We ask all our customers to send us reviews for Poole to Cherbourg ferries. Remember though, that the earlier you book, the cheaper prices normally are. So don't spend too long deciding! Poole to Cherbourg is a popular route, so we advise you to book as soon as possible.
Special Offers - Terms and Conditions
8 days in France from £99 pp for car + 2 people return
Subject to availability from a limited and variable allocation of space. New bookings only. Promotional conditions apply Travel can commence in UK or France. Additional supplements apply for extra passengers, pets, larger/over height vehicles plus trailers and caravans.
Reviews
Blocked toilets on return journey. mentioned to staff but no notice put on doors.

Review by BERNARD JAY

75th Anniversary of D-day

We crossed from Poole to Cherbourg over night and spend the day along the Normandy beaches. We returned on the night ferry back to Poole. The cabin was excellent and the staff were very friendly. Thanks

Review by BRIAN HINTON

Ok

Review by CATALIN ANDRIES

Would have given 5 stars overall but sailing time changed from early am to afternoon. Wasnt informed even though was told text message sent to me. Good crossing. Had a cabin but sat outside most of the time because the weather was lovely. Will definitely use again. Many thanks.

Review by STEPHEN TOPLIS

This ferry fitted the bill perfectly. Will use again.

Review by JOHN ALLEN