Portsmouth to St Malo Ferry
Portsmouth to St Malo Ferry

See sailing schedules and the latest prices

Safe and secure booking

Feel confident booking with "The World's Leading Ferry Website"

Portsmouth to St Malo Ferry

Find information with AFerry.co.uk

Millions of satisfied customers

We're the biggest ferry website in the world and we have a dedicated UK customer service team, just in case
Portsmouth to St Malo Special Offers
Spring Channel Hop: From £138 car+2 return.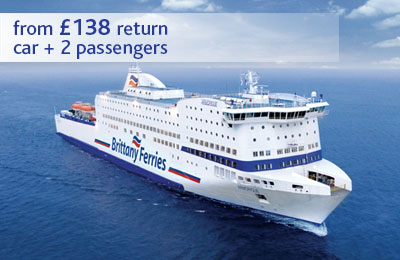 Book by 28/05/2019. Travel until 30/06/2019.
Sail with Brittany Ferries on any Channel route, up to 4 days away from £138 for a car and 2 passengers. Motorcycle and rider from £69pp return.Subject to availability and new bookings only. Travel can commence in the UK or France. Depart from Portsmouth, Plymouth or Poole and travel to Cherbourg, St Malo, Caen, Le Havre or Roscoff for a direct Channel crossing to France.
The Portsmouth to Saint Malo to ferry route connects Portsmouth, a port city in Hampshire on the south coast of England, to St Malo, a port city in Brittany in northwest France. The route is operated by Brittany Ferries. There are up to 7 crossings per week and the crossing time is approximately 8 hours and 50 minutes. This route accepts vehicles and foot passengers. Pets can also be booked on this route.
---
Portsmouth to St Malo is a fantastic choice for a relaxing sailing direct into Brittany. Portsmouth and St Malo are well connected with excellent road links to and from both ports, making the entire door-to-door trip as stress-free as possible.
Portsmouth St Malo ferries are operated by Brittany Ferries, with two cruise ships running on the route - the Bretagne and the Pont Aven. On both vessels you will find top class accommodation, facilities and dining options.
See below for the Portsmouth to St Malo timetable, showing the number of departures and the approximate sailing times. St Malo is also spelt Saint Malo or Saint-Malo but all of these names refer to the same place.
If available, you can also see the latest prices our customers have found recently. If you see a price you like, click the Get Price button to book!
Getting the best price for your Portsmouth to St Malo ferry
With AFerry we always give you our best prices for ferries from Portsmouth to St Malo. No matter which page you book from we always include all our special offers. And there is no need to look for a discount code. If we have an offer available, your ferry price will include the reduction or offer. There's no need to look at other websites.
If you're not sure if the Portsmouth to St Malo route is right for you or you can't decide between ferry companies, if there is more than one, you might also find it useful to read any reviews we have available. We ask all our customers to send us reviews for Portsmouth to St Malo ferries. Remember though, that the earlier you book, the cheaper prices normally are. So don't spend too long deciding! Portsmouth to St Malo is a popular route, so we advise you to book as soon as possible.
About Portsmouth
Portsmouth is Britain's only island city, situated on the Portsea Island. The docklands area of Portsmouth have long been important for the Royal Navy (and, incidentally, home to the world's oldest dry dock) and there are a variety our walking and boat tours which will give you an insight into the city's past. The waterfront has recieved much needed renovation in the last decade. One result is the Spinnaker Tower which can be clearly viewed as you enter the port.
About St Malo
It is a beautiful city founded in the 6th century by Welsh monks, the heart of the old walled town, also known as Intra-Muros, is like a medieval maze filled with small shops and restaurants. Other attractions include the ancient citadel, Cathédral St Vincent, built in the 12th century, the Château of St Malo which also holds the Musée de l'histoire, the Grand Aquarium, the Ramparts and much more
Reviews
Five star trip.

Review by MARGARET YARDLEY

Everything went really smooth, all services were delivered in a good manner and would definitely recommend.

Review by AMANDA GILMORE

Good over night journey.

Review by Anon

We have been using aFerry this last six months whilst travelling to and from France almost on a monthly basis. Our last trip we took our teenage boys and they were quite anxious to be in a small cabin overnight for the crossing. However with the on board entertainment, viewing of Bohemian Rhapsody, and a delicious evening meal. They settled well into their bunks. One of my sons even wanted a copy of the music which woke us in the morning. All in all it was a great trip.

Review by Anon

Excellent service

Review by STEVE VINE