Ronne to Poland Ferry
Coronavirus ferry travel advice
Ronne to Poland ferry information:
Ronne is connected to Poland via the port of Swinoujscie. On average, there are 2 crossings per week between Ronne and Poland, which are operated by TT-Line. Crossings from Ronne to Swinoujscie usually take around 5 hours.
The above information is a basic summary on the services between Ronne and Poland. We recommend using our Ferry Search to find live ferry information and the latest prices.
About Ronne
Ronne on the island of Bornholm is a small granite island and lies about 150 km east of peninsular Denmark and 40 km southeast of the southern tip of Sweden. It is known primarily for its medieval round churches. The rolling hills are covered with rich farmland and picturesque villages and the coast is graced by long stretches of sandy beach and rocky cliffs. With more than 200 km of bicycle routes Bornholm is an an attractive island for bike enthusiasts.
Soviet aerial attacks in 1945 leveled the city, so most buildings in Ronne are modern. Nevertheless you find will find Ronne to be a charming little town if you visit its historic Old Town (Gamle Stan) with its cobble stoned streets flanked by brightly painted cross-timbered houses. Other attractions are the Hjorth's Fabrik, a Museum of Pottery originating back to 1859, the Forsvarsmuseet (Defense Museum) in the southern part of town, the Bornholms Museum, housed in a former hospital and the St Nicolai Church, which you will notice if you arrive by ferry.
About Poland
Poland is a beautiful and culturally rich country that has been relatively untouched by mass tourism.
Poland has lively cosmopolitan cities along with mountainous scenery and sandy beaches.
Visit Warsaw to experience Poland's cultural delights such as theatrical productions, opera and museums, or travel to the Carpathian mountains to enjoy spectacular views, traditional folklore and excellent sports facilities.
See the Icon of the Black Madonna, also known as the miraculous painting of Our Lady, in the huge Jasna Góra monastery complex at Czestochowa, 100km (60 miles) north of Kraków. You can take an elevator to the 30th floor observation deck of the Palace of Culture and Science for a great view of Warsaw.
Poland Travel Guide
Situated at the centre of Europe, and the largest of the former Eastern European states, Poland is fast becoming a key member of the EU. Its main ferry ports are Gdynia and Gdansk.
Getting around Poland
Cheap and efficient InterCity trains are operated by Polskie Koleje Pañstwowe. These are fast, clean and efficient. However, the infrastructure of the railway is quite old and it may well be quicker and cheaper to use the bus for many routes.
By car, be aware that traffic drives on the right, and standard international traffic signs are used. Major inter-city routes use the prefix `E' and motorways use `A'. Petrol stations located along main routes are open 24 hours a day. Road quality ranges from smooth brand new motorways to pot-holed single lanes.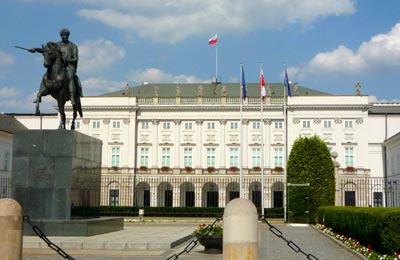 The Presidential Palace in Poland