Rosslare to Pembroke Ferry
Rosslare to Pembroke Ferry with Irish Ferries - Prices from £180
Rosslare to Pembroke - Cheapest Prices
For the next 7 days
Based on bookings travelling this week with a car.
Rosslare to Pembroke Special Offers
Kids go Free with Irish Ferries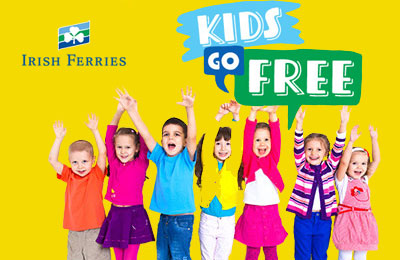 Travel up to 18 December 2019.
Up to 7 kids go free when you bring the car to Ireland with Irish Ferries. Routes: Holyhead-Dublin and Pembroke-Rosslare. Children defined as aged up to 15 years old. Maximum 7 children per booking.
The Rosslare to Pembroke ferry connects Ireland to Wales and is operated by Irish Ferries. As well as comparing prices and times for Rosslare to Pembroke, we will also show you results for Rosslare to Fishguard to help you get from Ireland to Wales at the best time, for the best price.
Book a Rosslare to Pembroke ferry today with AFerry. Just use the form above and choose the route that you want. If nothing appears automatically, start typing Rosslare. You can also type the country or even the name of the ferry company you are interested in. When you have the route that you want, choose single or return and all the other options you want.
How we compare ferries, prices and times for Rosslare to Pembroke
If there is more than one ferry company operating on the Rosslare Pembroke route we will show you all the ferry companies, to make sure you get our best price. We'll also show you any routes similar to Rosslare to Pembroke so you have the complete picture when making your booking. And of course you'll also see a range of times just in case it's a bit cheaper earlier or later than your preferred booking time.
How you get your ticket and how you can make changes if you need to
Once you've chosen your perfect sailing and have made your booking we'll email you your booking confirmation for your Rosslare to Pembroke ferry. The majority of tickets have instant confirmation.
We will also email you details about how you can contact us using our messaging service, as well as details about how you can change your ticket. Most of the time you can do this by yourself. The vast majority of our customers give us a review of four or five stars showing that their very happy with our service and communication.
---
Below you can see the ferry company or companies that sail on the Rosslare to Pembroke route and the journey times. You might also see some recent prices our customers have found. The best way to find a cheap Rosslare to Pembroke ferry though is to use the form above today to see all of our possible choices.
Getting the best price for your Rosslare to Pembroke ferry
With AFerry we always give you our best prices for ferries from Rosslare to Pembroke. No matter which page you book from we always include all our special offers. And there is no need to look for a discount code. If we have an offer available, your ferry price will include the reduction or offer. There's no need to look at other websites.
If you're not sure if the Rosslare to Pembroke route is right for you or you can't decide between ferry companies, if there is more than one, you might also find it useful to read any reviews we have available. We ask all our customers to send us reviews for Rosslare to Pembroke ferries. Remember though, that the earlier you book, the cheaper prices normally are. So don't spend too long deciding! Rosslare to Pembroke is a popular route, so we advise you to book as soon as possible.
About Rosslare
In Ireland, Rosslare is known as the "Sunny South-East". Every year it receives 300 hours more sunshine than anywhere else in Ireland, making Rosslare into a top tourist destination.
Furthermore, the sandy beach in Rosslare is a Blue Flag beach and that attracts families, swimmers and surfers alike. If you like playing golf, then near Rosslare, there are many golf courses including the New Ross Golf Club, a fine 18 hole parkland course, which is well worth a few hours play. In the town centre there are good hotels, restaurants and bars.
It is also worth exploring Rosslare's beautiful countryside with all the parks, fascinating villages and amazing views, which are hard to forget.
There are many places and villages to visit around Rosslare, like the Yola Farmstead Folk Park; Kilmore Quay (picturesque fishing village); Ballinskar, a village in which Spielberg shot some battle scenes for the film 'Saving Private Ryan'; and The Irish National Heritage Park where you will find audio-visual guided or self guided walks, which illustrate history from the Stone Age up to the early Norman Period.
About Pembroke
Pembroke is the historic home of the Pembroke Welsh Corgi - the Queen is known for liking this particular breed of dog and she owns several. It was also the birthplace of King Henry VII. Pembroke was the location for some of the first submarine bases when submarine warfare was a developing concept.
Special Offers - Terms and Conditions
Kids go Free with Irish Ferries
Valid on Irish Sea routes up to 18 December 2018. Must be booked online and 48 hours in advance of travel. Children defined as aged up to 15 years old. Maximum 7 children per booking. New bookings only. Subject to availability. Excludes freight, bicycles and foot passengers including SailRail. Not applicable for landbridge, inclusive holiday or any other third party arrangements.
Reviews
Travel by car on Irish ferries

I travel from London to Ireland 10 times yearly,sometimes by plane and sometimes by car. The airport is too far for me as I live in Wexford, so a long bus ride. The Irish ferry ship is the cleanest I have ever travelled on, good on poles, but the food is very expensive, so I bring my own. Will use them again as they find the best price for me. O

Review by MYLES SULLIVAN

Staff were very helpful. Catering was OK. Conditions onboard where very good.

Review by Anon

Enjoyable calm sailing after a fantastic four week trip along the WAW.

Review by JOHN HEDDLE

Had trouble finding some where to sit with all the people laying on the chairs, so we had to get a cabin, money we could do without spending,

Review by KENNETH HALLIDAY

Always happy to be onboard

Review by OLUSEYI COKER