Rosslare to Wales Ferry
Coronavirus ferry travel advice
Rosslare to Wales ferry information:
There are currently 2 ferry routes connecting Rosslare and Wales, with services from Rosslare to Fishguard and Pembroke. On average, there are a combined number of 4 crossings each day between Rosslare and Wales, which are operated by Irish Ferries and Stena Line. The shortest crossing between Rosslare and Wales is to Fishguard with Stena Line and takes around 3 hours 15 minutes, while the longest crossing is to Pembroke with Irish Ferries and takes approximately 4 hours 1 minutes.
The above information is a basic summary on the services between Rosslare and Wales. We recommend using our Ferry Search to find live ferry information and the latest prices.
About Rosslare
Rosslare is a village in County Wexford on the south-east coast of Ireland. In Ireland, Rosslare is known as the "Sunny South-East". Every year it receives 300 hours more sunshine than anywhere else in Ireland, making Rosslare into a top tourist destination.
Furthermore, the sandy beach in Rosslare is a Blue Flag beach that attracts families, swimmers and surfers alike. If you like playing golf, then near Rosslare, there are many golf courses including the New Ross Golf Club, a fine 18 hole parkland course, which is well worth a few hours play. In the town centre there are good hotels, restaurants and bars. It is also worth exploring Rosslare's beautiful countryside with all the parks, fascinating villages and amazing views, which are hard to forget.
There are many places and villages to visit around Rosslare, like the Yola Farmstead Folk Park; Kilmore Quay (picturesque fishing village); Ballinskar, a village in which Spielberg shot some battle scenes for the film 'Saving Private Ryan'; and The Irish National Heritage Park where you will find audio-visual guided or self guided walks, which illustrate history from the Stone Age up to the early Norman Period.
About Wales
Wales has many areas of outstanding natural beauty and parks, which are well worth a visit.

The likelihood is that you will have to drive through a few of them, so why not stop and walk around them on your way through?

Wales has a lot to offer visitors. It is well known for its rugged natural beauty and any sports fan is bound to enjoy themselves in this rugby mad nation. Wales also hosted the 2010 Ryder cup at the magnificent Celtic Manor Resort in Newport showing just what a great golfing destination it is too.
Wales Travel Guide
Take a ferry to Wales to discover a land marked by a unique cultural heritage and steeped in a history as rich and as deep as the verdant Welsh valleys Any visit to Wales is bound to leave you with a lifetime of memories and a treasure trove of beautiful photographs of the majestic Welsh countryside.
Travel in Wales
Wales has many mountains. Yes, strange thing to say but this does affect how you travel around Wales. Going from East to West is pretty easy. Going from North to South is not so easy. Let's be honest - if you are in a hurry to get from North to South, you're going to need to fly. But Wales isn't the sort of place you want to hurry through. The slower travelling time means you really get to appreciate the beauty of the scenery. Travelling by car will take about five to six hours and involve going over many mountains, so make sure you are happy going up-hill before you start. If you plan your route well, you can find yourself going through Snowdonia national park with its stunning mountainous vistas.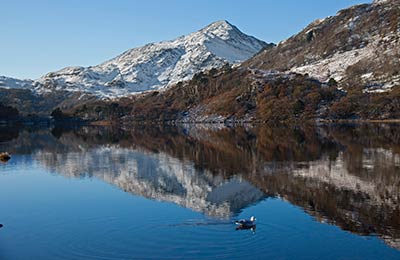 Trains fare slightly better. There is one high speed train a day between Holyhead and Cardiff, though if we tell you that this also stops at a few stations in England, you can imagine what a circuitous route it takes to get between the two cities. Other than that, you are best off travelling on the local trains, currently operated by Arriva Trains Wales which, despite being slow, go through some stunning scenery.