On board SamsoFærgen ferries
On board with SamsoFærgen you can find a range of facilities to make your journey more enjoyable. On the bottom deck you can find a cafeteria and a playroom for younger children, while on the top deck you can find an entertainment lounge where you can enjoy a show with a glass of wine or whatever takes your fancy.
---
About SamsoFærgen ferries
The SamsoFærgen fleet consists of the Kanhave and the Kyholm. The Kanhave is the larger of the two vessels, carrying up to 600 passengers. The Kyholm carries up to 390 passengers in the winter months, however this increases to 550 during the summer months (May-September).
---
Pet Booking Information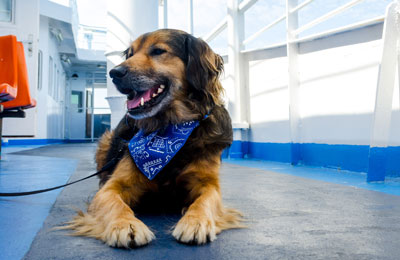 You can book your cat or dog on board a SamsoFaergen ferry with AFerry. Just choose your route and then select the number of cats or dogs you are sailing with.
Note that to take your pet to and from the UK to mainland Europe and Ireland you will need a pet passport. To find out more about pet passports and travelling with your pet see our pet travel guide.