St Malo to Portsmouth Ferry
St Malo to Portsmouth Ferry with Brittany Ferries - Prices from £170
St Malo to Portsmouth - Cheapest Prices
For the next 7 days
Based on bookings travelling this week with a car.
St Malo to Portsmouth Special Offers
8 days in France from £99 pp for car + 2 people return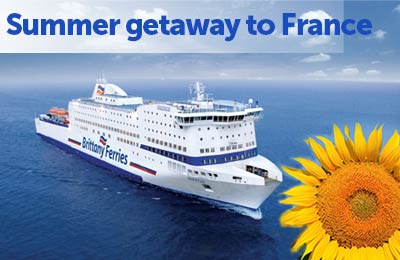 Book by 04/07/2019. Travel until 30/08/2019.
Sail with Brittany Ferries for 8 day return breaks from only £198 for car + 2 people, that's just £99 per person. Motorcycle and rider £99 return. Routes: Portsmouth to Caen, St Malo, Cherbourg and Le Havre. Poole to Cherbourg and Plymouth to Roscoff. Travel until 30 August 2019. Book by midnight 4 July 2019. Travel can commence in UK or France.
The St Malo to Portsmouth ferry route connects Saint Malo, a port city in Brittany in northwest France to Portsmouth, a port city in Hampshire, on the south coast of England. The route is operated by Brittany Ferries. There are up to 7 crossings per week and the crossing time is approximately 8 hours and 50 minutes. This route accepts vehicles and foot passengers. Pets can also be booked on this route.
---
Getting the best price for your St Malo to Portsmouth ferry
With AFerry we always give you our best prices for ferries from St Malo to Portsmouth. No matter which page you book from we always include all our special offers. And there is no need to look for a discount code. If we have an offer available, your ferry price will include the reduction or offer. There's no need to look at other websites.
If you're not sure if the St Malo to Portsmouth route is right for you or you can't decide between ferry companies, if there is more than one, you might also find it useful to read any reviews we have available. We ask all our customers to send us reviews for St Malo to Portsmouth ferries. Remember though, that the earlier you book, the cheaper prices normally are. So don't spend too long deciding! St Malo to Portsmouth is a popular route, so we advise you to book as soon as possible.
About St Malo
It is a beautiful city founded in the 6th century by Welsh monks, the heart of the old walled town, also known as Intra-Muros, is like a medieval maze filled with small shops and restaurants. Other attractions include the ancient citadel, Cathédral St Vincent, built in the 12th century, the Château of St Malo which also holds the Musée de l'histoire, the Grand Aquarium, the Ramparts and much more
About Portsmouth
Portsmouth is Britain's only island city, situated on the Portsea Island. The docklands area of Portsmouth have long been important for the Royal Navy (and, incidentally, home to the world's oldest dry dock) and there are a variety our walking and boat tours which will give you an insight into the city's past. The waterfront has recieved much needed renovation in the last decade. One result is the Spinnaker Tower which can be clearly viewed as you enter the port.
Special Offers - Terms and Conditions
8 days in France from £99 pp for car + 2 people return
Subject to availability from a limited and variable allocation of space. New bookings only. Promotional conditions apply Travel can commence in UK or France. Additional supplements apply for extra passengers, pets, larger/over height vehicles plus trailers and caravans.
Reviews
I had a very good crossing. I really enjoyed the entertainment. The singer was awesome. I was completely looked after as a solo traveller. Thank you

Review by KERRY CLEAVE

Comfortable trip, excellent food,

Review by ROGER HARDWICH

Great Crossing - shame about check in.

Check in is poor. There is NO electronic information and the officials in the terminal building gave us wrong information re boarding time! Also latecomers jump the queue as thee were no officials to organise people who arrived early. The quality o the dining experience was, excellent, as usual. Come on BF - do something about boarding procedure! Why no priority boarding unlike other ferries?

Review by Martin

Very good experience from start to finish

Review by JOHN DUCKETT

A long, but pleasant crossing.

Last time we were in this part of France we drove to Dieppe for a cheaper crossing. However it took several hours to drive there, nearly an hour to exit the boat and pass through customs followed by a horrendous trip round the M25. I decided to splash out on the more exspensive St Malo-Portsmouth route this time, but I have no regrets. Checking in was easy and we were tucking into a tasty and reasonably-priced breakfast before the ship had left port. There was enough to keep the kids busy (even for nine hours)- they liked the pantomime in particular. We had another great meal before we got off the boat, which meant we managed to drive all the way to Sheffield without stopping. I think it's highly-likely we'll use this route the next time we come to Brittany.

Review by NICK BLOOD