Tarifa to Morocco Ferry
Coronavirus ferry travel advice
Tarifa to Morocco ferry information:
Tarifa is connected to Morocco via the port of Tanger Ville. On average, there are 8 crossings each day between Tarifa and Morocco, which are operated by FRS and Inter Shipping. Crossings from Tarifa to Tanger Ville usually take around 1 hour.
The above information is a basic summary on the services between Tarifa and Morocco. We recommend using our Ferry Search to find live ferry information and the latest prices.
About Tarifa
Tarifa is Europe's and Spain's southernmost port. Tarifa Ferry Port is situated at the heart of this charming town, and offers ferry services to Morocco.
Although Tarifa has escaped mass tourism, it is still a popular destination, especially with windsurfers who come to Tarifa to experience the strong prevailing winds from the Atlantic Ocean. There is plenty to do in Tarifa, including mountain biking, surfing, fishing, walking and scuba-diving. Tarifa also has much to offer after the sun goes down, with many bars, restaurants and a vibrant nightlife.
Tarifa boasts 10km of white sandy beaches and unspoiled countryside and is an ideal destination for those wishing to get away from it all and relax. Tarifa old town is also one of Tarifa's main attractions; the narrow cobbled streets and city walls provide a beautiful setting in which to take a stroll. Other sights worth seeing in Tarifa include the Arab castle of Guzman the Bueno, dating from 960 A.D.; the magnificent church of San Matéo and the La Alameda gardens.
About Morocco
Morocco is situated on North Africa's most westerly point, bordering Algeria and Mauritania. Morocco has a varied landscape, from sandy beaches to fertile plains to the impressive Atlas mountain range which runs through the centre of the country.
The markets of Morocco are worth a visit. It is expected that you haggle a wee bit for goods (the original asking price may be anything up to 50 times the actual expected price of any item). This is obviously fantastic news for any wannabe Apprentice candidates who are planning their holidays.
Also try a Hammam. Hammams are social steam baths that can be found throughout the country. They are considered by many to be an essential part of a trip to Morocco. Most Hammams are single sex.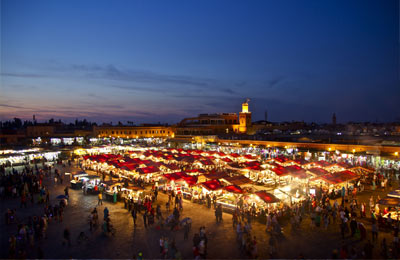 Morocco Travel Guide
Morocco has experienced an influx of tourists in recent years; the sandy beaches and vibrant towns make Morocco a popular destination with visitors from all over the world, who flock to Morocco to experience the warm climate and rich culture that the country offers.
Say the word Morocco and you will often be greeted with a series of blank looks and puzzled expressions. Mention, however, the city of Casablanca, and you will be rewarded with nostalgic smiles as minds are cast back to one of the nation's favourite film. The mention of Marrakesh will remind people of exotic markets tinged with the sights and smells of the Arab world. The port of Tangier will remind people of the long queue of famous people who flocked to get a bit of the charm of this African nation, from Churchill to Jimi Hendrix.
As you can see, Morocco is the place to go!