On board Trasmediterranea ferries
Trasmediterranea's modern air conditioned ships are designed so that passengers feel their journey is a part of their holiday. On board their ships, in addition to a range of cabins and seating, you will find swimming pools in the summer months, bars, restaurants, cinemas and even discos. Their ships, with the exception of their Jet Foil high speed ships, also have shops on board offering a range of goods at affordable prices. All together, any Trasmediterranea journey is bound to be a pleasant and relaxing one.
---
Whether you use the Trasmediterranea Barcelona Ibiza ferry route, the Trasmediterranea Algeciras Tanger ferry service, the Trasmediterranea Las Palmas Cadiz ferry, or any other Trasmediterranea ferry, you are bound to have a relaxing and enjoyable journey.
Pet Booking Information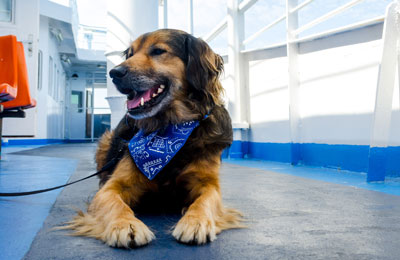 You can book your cat or dog on board a Trasmediterranea ferry with AFerry. Just choose your route and then select the number of cats or dogs you are sailing with.
Trasmediterranea provide on board accommodation for pets on their ships where pets must reside. This does not apply to guide dogs.
Note that to take your pet to and from the UK to mainland Europe and Ireland you will need a pet passport. To find out more about pet passports and travelling with your pet see our pet travel guide.