On board Viking Line ferries
Viking Line Ferry service offers a wide range of entertainment and other facilities including quality restaurants, bars, lounges, relaxing saunas and swimming pools and a number of other spa and recreational facilities on board their modern and comfortable Viking Line Ferries.
There are a variety of quality cabins available to choose from onboard Viking Line Ferries, ranging from a single conference cabin to a four-berth family cabin, or from a deluxe cabin to a spacious suite with a toilet, shower, radio and air conditioning available in every cabin.
In the evening you can enjoy live entertainment and a delicious dinner including the traditional Scandinavian Viking Buffet on all the cruises. For the true gourmet lover, there are a la carte restaurants, elegantly decorated in different styles and Tapas and wine bars. There are also American and Italian restaurants available onboard some of the Viking Line ships.
---
About Viking Line Ferries
The largest ship run by Viking Line is the M/S Viking XPRS. This new passenger vessel combines the best features of traditional car ferries and fast catamarans. This means that you can travel in comfort with great on board service while enjoying a reliable short crossing time regardless of weather conditions.
---
Pet Booking Information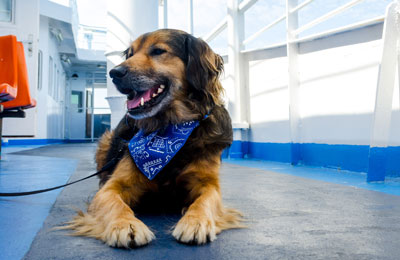 You can book your cat and/or dog on board a Viking Lines ferry with AFerry.
Just choose your route and then select the number of cats or dogs you are sailing with.
Note that to take your pet to and from the UK to mainland Europe and Ireland you will need a pet passport. To find out more about pet passports and travelling with your pet see our pet travel guide.